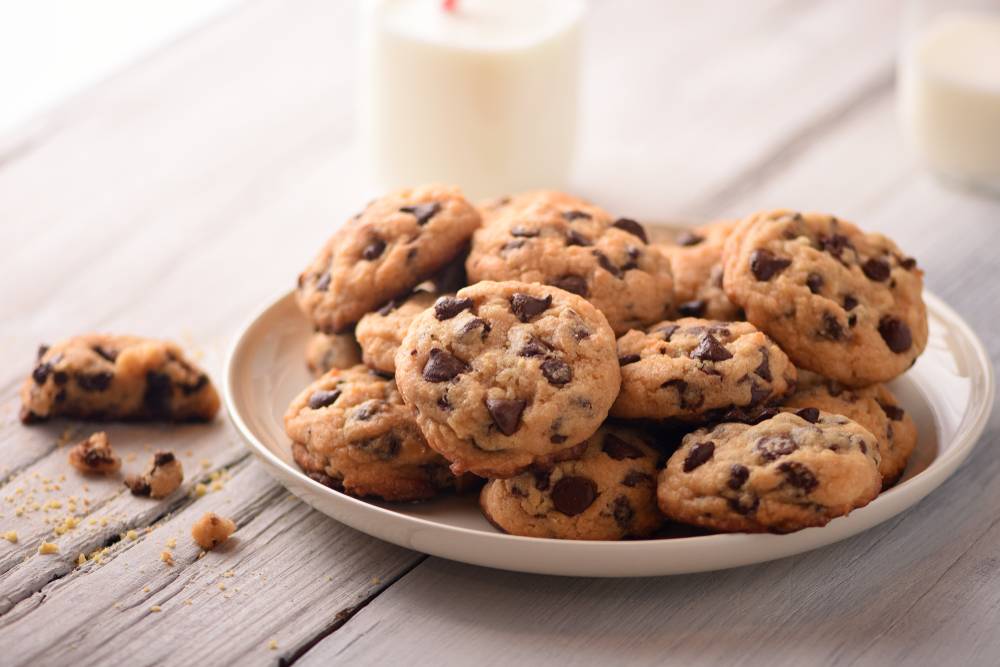 How Can You Prepare Chocolate Chip Cookies recipe at Home?
Who does not love chocolates? Well, if you want to have something new, it could be in the form of Chocolate chips cookies. These are very delicious, surprising cookies. Yo"ll love the recipe that we are explaining in this handout to you every single time. You will fall in love with cookies once you eat them.
Ingredients required for chocolate chip cookies recipe:
1 cup of white sugar
I cup of softened butter and packed brown sugar
2 teaspoons of vanilla extract and hot water
2 eggs
1 teaspoon of baking soda
1 cup of chopped walnuts
½ teaspoon of salt
2 cups of semisweet chocolate chips, and
3 cups of all-purpose flour
How do you make soft chocolate chip cookies from scratch?
This chocolate chip cookies recipe preparation needs around 20 minutes, 10 minutes to cook, and total 1 hour to get ready.
You need to preheat the oven to 175 degrees C.
Mix together three ingredients white sugar, brown sugar, and butter.
Beat the eggs in a separate bowl one at time and then add vanilla to it.
Dissolve the baking soda in hot water and later add to your batter with salt.
Keep mixing flour, nuts, and chocolate chips together.
Drop a large spoonful of the prepared batter on to the pan.
Bake your cookies in the oven for around ten minutes until you find the edges get browned.
How do you make cookies stay soft?
Soft Butter: If you genuinely want to prepare the best & soft cookies, then take out butter from the fridge in the morning. After some time, it becomes ready to use when you want to make it.
Measure the floor: For dry ingredients, it is better if you use a measuring cup. However, for preparing chocolate cookies, there is some controversy to measure the floor. It is better to use a scoop and shake method because it's always easy to make cookies with it. To have appropriate results level the flour.
Use many Chocolate Chips: Well, it's obvious to use chocolate chips as many as you can because you are preparing it.
Be careful that cookies do not get over bake: Well, if you over bake the cookies, then these will not look good when you take them out of the oven.
Freezer friendly cookies: It is better to freeze the cookies by rolling them into balls at first. Do not bake them at once.
How can you bake frozen cookies?
It's better to freeze your cookies dough in the freezer for impromptu guests? You can remove the dough balls and let them be on the baking paper.
It's better to cover that dough with a towel or some napkin. It will be helpful for them to thaw.
Now let your cookies dough reach into the right room temperature and then directly bake them.
Is there some unique way to bake the Chocolate Chip Cookie?
It is better to go with the chocolate chips cookie recipe from frozen. It will give you the best results while placing dough on the parchment paper.
Soft Chocolate Chip Cookies Recipe
Preheat the oven at the starting to 350 degrees F.
Now put the cookies inside when you are preheating it.
Set the time of oven to around 10 minutes and then remove the cookies.
The top of the cookies will turn brown than the usual shade.
These cookies will turn tasty and amazing than you had before.
Why do the cookies get flatten and spread?
There could be many reasons, as stated below:
It can happen if the baking powder or the baking soda has past their time and got expired. Even if you check out the date of the container, then also it may not be right.
The second reason behind such a happening could be the over-mixing of ingredients. It will warm off the ingredients. If it happens so, then chill your dough before you bake them and then take them back to the room temperature.
Baking Chocolate chips cookies are better at electric convection oven. It is better to invest your cookies in a cheap oven thermometer to check its temperature if the cookies are not turning out properly.
Get ready with the delicious chocolate chips cookies! Try out more Cookies Recipes in our recipes section.
Soft Chocolate Chip Cookies Recipe