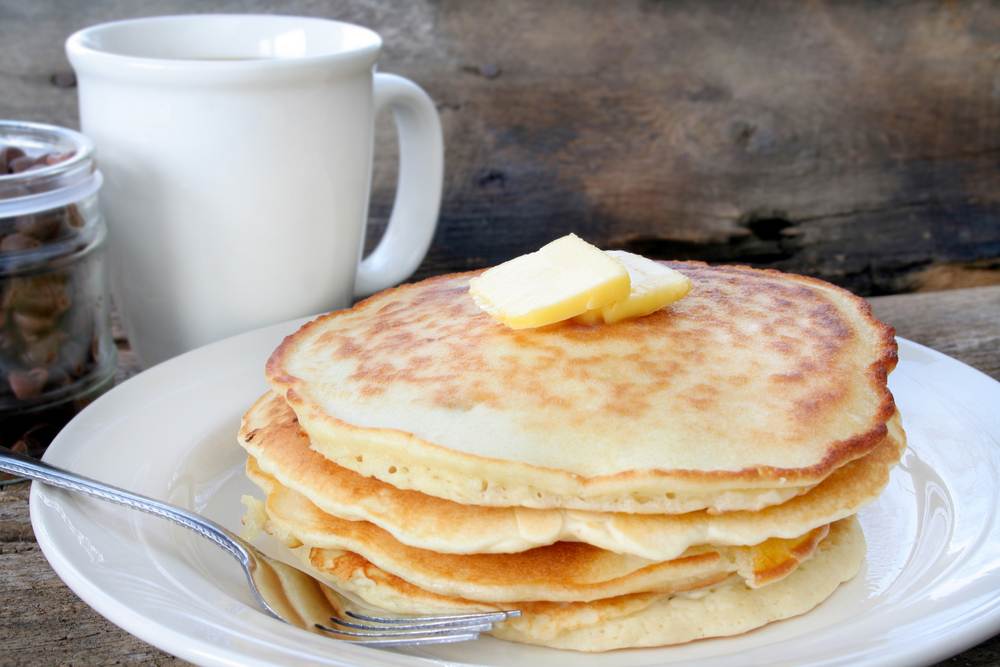 Getting bored of serving the same breakfast everyday? Want to have something special? You can try out this fluffy buttermilk pancake recipe – a yummy, light and fluffy delight with crispy edges.
It's a breakfast recipe that can make everyone enjoy their food. You might think that it's difficult to try out this recipe in morning as you are in hurry that time.
No worries! Preparing pancake with buttermilk is an easy task that takes around 10-15 minutes. If you are thinking to serve a sweet, salty and delectable indulgent to your near and dear ones, this recipe will absolutely be the perfect one.
Pancake recipe with buttermilk is nothing but a delight for taste buds which will taste heavenly with maple syrup dripping on it. So, let's take a look at the pancake recipe with buttermilk.
How to prepare pancake recipe with buttermilk?
Buttermilk is an ingredient that adds extra creaminess and yumminess to the recipe. There are a lot of variations of pan cake yet particularly this one is well loved by all for its yummy 'n' crispy taste. Although regular milk can be added to it but for a pleasant tang and fluffier finish, using butter milk is a must-to-do.
You can also add butter for enhancing the richness of it. So, want to make a great start of a day? Try out this pancake recipe with buttermilk. Whether it's a weekend breakfast or a busy week day, this recipe can simply make everyone happy.
The recipe that we are sharing here is a simple and quickest ever version. It's not at all a lengthy process so that a beginner can also try it out at own home. The process starts with mixing all the ingredients together and ends up with frying the pancakes. Let's take a look at the list of ingredients required for pancake enriched with buttermilk.
Ingredients for pancake
All purpose flour ( 2 cups)
Baking powder ( 2 teaspoons)
Fresh butter milk ( 3 cups)
Sugar ( 3 tablespoons)
2 eggs ( lightly beaten)
Baking soda ( 1 teaspoon)
Salt ( ½ teaspoon)
Unsalted and melted butter ( 4 tablespoons)
So, have you seen that for preparing pancake you don't need to rush towards the market? With a few simple ingredients, you can prepare pancake at own home. Now, follow the steps as mentioned here.
Steps to follow for preparing pancake with buttermilk recipe
This breakfast recipe doesn't make you spend a long time in the kitchen. Just follow a few steps and enjoy pancakes enriched with the creaminess of buttermilk.
Step 1
Take a large bowl for mixing all the ingredients properly. Mix flour, sugar, baking powder, baking soda and salt together. Keep it aside.
Step 2
Beat buttermilk, eggs, and melted butter together. Make sure that the mixture is lump-free.
Step 3
Heat a frying pan over medium to high heat and oil it lightly. To make sure that your frying pan is ready cook pancakes, flick water on the surface of the pan. If water beads up and starts sizzling, you can make sure that the pan is perfectly ready for preparing pancakes.
Step 4
Now consider pouring the mixture of buttermilk into the dry mixture that has been kept aside. Take a wooden spoon to blend everything. Stir the mixture continuously until it gets blended properly. But, do not overmix as it will ruin the taste of pancake.
Step 5
Now scoop the batter ( ½ cup for 1 pancake) onto the griddle. Let it get brown on both the sides and serve hot.
How to serve delicious pancakes
Pancake recipe with buttermilk is a version that itself can be enjoyed without anything. However, according to your taste and choice, you can try out serving with different variations. You can serve with bacon or also you can serve with cranberry syrup. It's absolutely up to your choice.
Tips to follow
Always use fresh buttermilk to relish the delicious taste of pancake.
For a fluffy and light pancake, use the egg yolk and egg white separately. When it comes to the time of adding the eggs, consider adding only the egg yolk and use the beaten egg white separately at the end when you will end up mixing all the ingredients.
Don't forget to let the batter rest for few minutes ( 5-15 minutes).
For the perfect sized pancake, use a measuring cup with ¼ cup quantity.
Let the sides get lightly browned and look for the bubbles on the top. Make sure that the pancakes are not too floppy to flip.
So, let's make delicious pancake with buttermilk to surprise your family members with a yummy delight. You can also try fruitcake recipe if you love the cakes. Click Here for More Recipes Cake Recipes
Fluffy Buttermilk Pancake Recipe