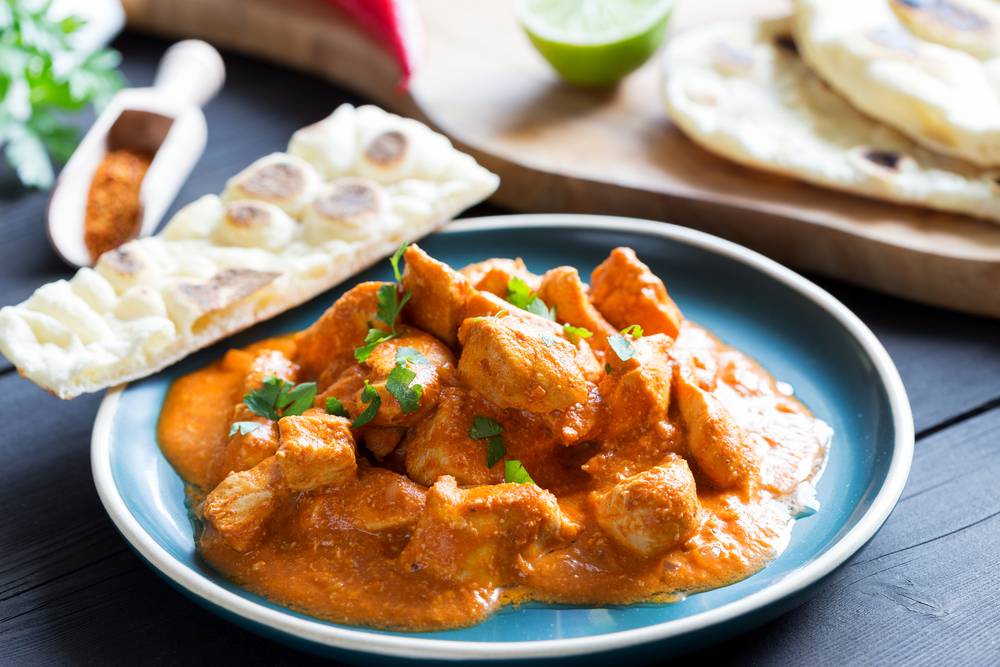 How to Make Butter Chicken in Restaurant Style?
Here in this authentic butter chicken recipe, there are lots of rich flavors giving available ingredients. The aroma of all characters is the same as the rich taste. You will be able to make this dish in easy steps at your home after following all the instructions.
Creamy texture and spices are giving this dish an exotic taste. It is a favorite delicacy that brings in everyone's mind, like how we can prepare a restaurant style butter chicken at home.
Now don't overthink that problem because after following the below steps, your chicken will be like restaurant style butter chicken.
Lots of protein material makes the chicken all-time remembering food material, but making it in a tasty way can make your stomach also to remember it again and again.
Lots of people use lots of different kinds of spices and gravy to make it delicious, but with our sufficient ingredients, you can feel the sweet, rich flavor of butter chicken.
All the below steps are very clear and understandable to all. You can go with step by step and see the result by yourself in the end.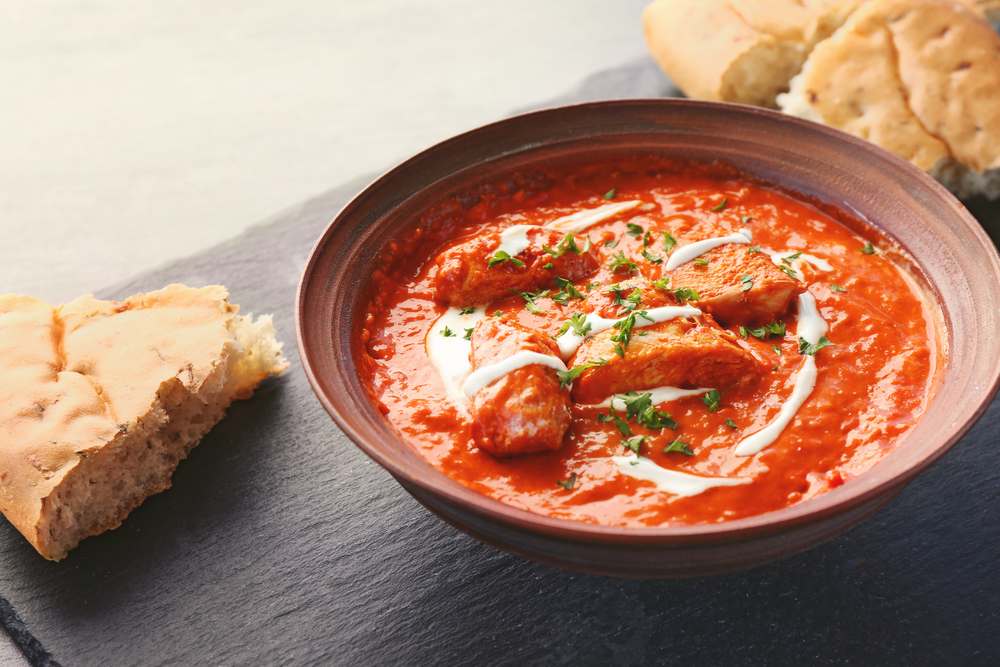 Authentic Butter Chicken Recipe
Ingredients for Butter Chicken Recipe
300 gms boneless Chicken breast
1 tbsp Ginger garlic paste
1 tbsp Red chili powder
Salt to taste
Oil to pan fry
500 gms roughly slit tomatoes
100 gms roughly cut onions
1 tbsp garlic paste
50 gms cashew
1 tsp kasoori methi (Fenugreek Leaves)
1/2 tsp garam masala
4 tbsp sugar
2 tbsp Kashmiri chili powder
5 tbsp butter
3 tbsp cream
2 tbsp malt vinegar
1.5 tbsp White Vinegar
How to Make Butter Chicken Recipe in Easy Steps?
Take some chunks of chicken in a bowl and add some garlic paste, ginger paste, red chili powder, and salt as per the taste. Give it a nice mix and marinate the chicken chunks for 10 minutes.
After 10 minutes your chicken is marinated so let's start pan-frying. Heat the pan in medium flame and then pour oil on it.
Now the oil is medium hot, so fried chicken chunks. After cooking the chicken, transfer the chicken pieces into another bowl.
Take an onion and cut it roughly and drop into the pan and add butter to it and lightly cook after that add roughly chopped tomatoes to it and add some cashew nuts too.
Once all the ingredients evenly mi add some water to it and along with this add salt, malt vinegar, some sugar, garam masala powder, and some red chili powder. Mix it and cook for 10 minutes.
After that, turn the gas off and pour it on a bowl and blend it with the help of a blender and make purry.
Now pour all the purry into the pan and reheat it again in medium flame after that add butter, rich cream. Next, goes in marinate chicken and now finally add crushed kasoori methi (fenugreek leaves).
Cook the creamy gravy for 8 minutes for the simmer texture. After that, your creamy butter chicken will be ready. So cook it nicely.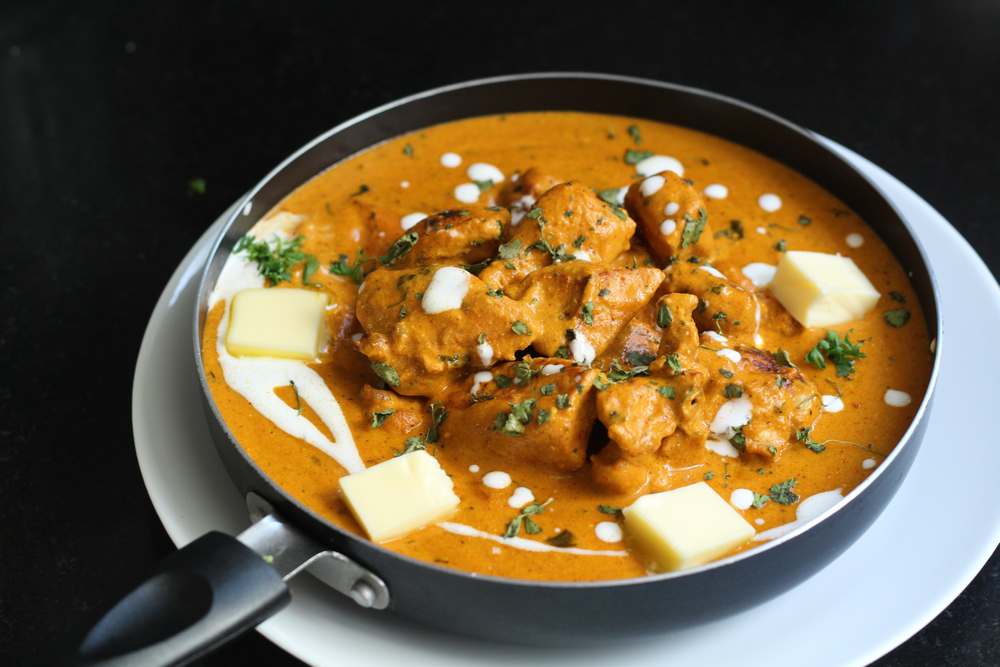 Your authentic butter chicken recipe is now ready, and you can plate it for your foodies. Take a plate with a bowl and pour butter chicken on a bowl and present it with fresh cream and kasoori methi.
After finishing this dish, your foodies will be going to miss this recipe, so don't forget to share it with all. Share the meal with your friends and your family too. And your children will also love this creamy butter chicken recipe.
A natural healthy, and tasty formula is here for all chicken lovers. Your dish will be the king of chicken recipes. Just taste it and spread the taste as much as you can.
Pro-Tip
Rich curry flavor doesn't skip to cook the purry material first, and after that, lend it. Blending the purry after simmer gives the butter chicken recipe a perfect purry taste. That will be rich and thick too.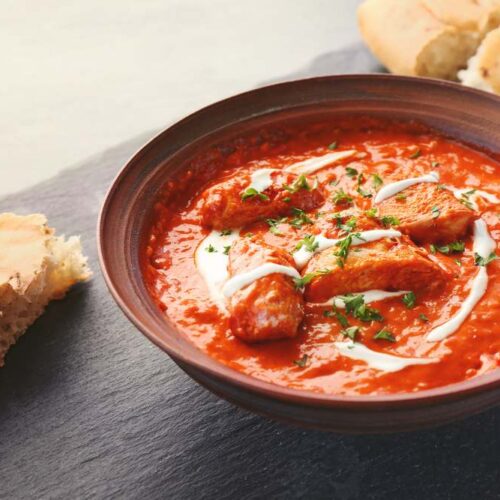 Authentic Butter Chicken Recipe
Creamy texture and spices are giving this dish an exotic taste. It is a favorite delicacy that brings in everyone's mind, like how we can prepare this authentic butter chicken recipe at home.
Ingredients
300 gms boneless  chicken breast

1 tbsp Ginger garlic paste

1 tbsp Red chili powder

Salt to taste

Oil to pan fry

500 gms roughly slit tomatoes

250 gms roughly cut onions

50 gms cashew

1 tsp kasoori methi

1/2 tsp garam masala

4 tbsp sugar

2 tbsp Kashmiri chili powder

5 tbsp butter

3 tbsp fresh cream

2 tbsp malt vinegar

1.5 tbsp White Vinegar
Instructions
Take some chunks of chicken in a bowl and add some garlic paste, ginger paste, red chili powder, and salt as per the taste

Give it a nice mix and marinate the chicken chunks for 10 minutes

After 10 minutes your chicken is marinated so let's start pan-frying. Heat the pan in medium flame and then pour oil on it

Now the oil is medium hot, so fry chicken chunks. After cooking the chicken, transfer the chicken pieces into another bowl

Take an onion and cut it roughly and drop into the pan and add butter on it and lightly cook after that add roughly chopped tomatoes on it and add some cashew nuts too

Once all the ingredients evenly mild add some water on it and along with this add salt, malt vinegar, some sugar, garam masala powder, and some red chili powder. Mix it and cook for 10 minutes

After that, turn the gas off and pour it on a bowl and blend it with the help of a blender and make purry.

Now pour all the purry into the pan and reheat it again in medium flame after that add butter, rich cream. Next, goes in marinate chicken and now finally add crushed kasoori methi (fenugreek leaves).

Cook the creamy gravy for 8 minutes for the simmer texture. After that, your creamy butter chicken will be ready. So cook it nicely
Keyword
authentic butter chicken recipe, indian butter chicken
Authentic Butter Chicken Recipe (Indian)