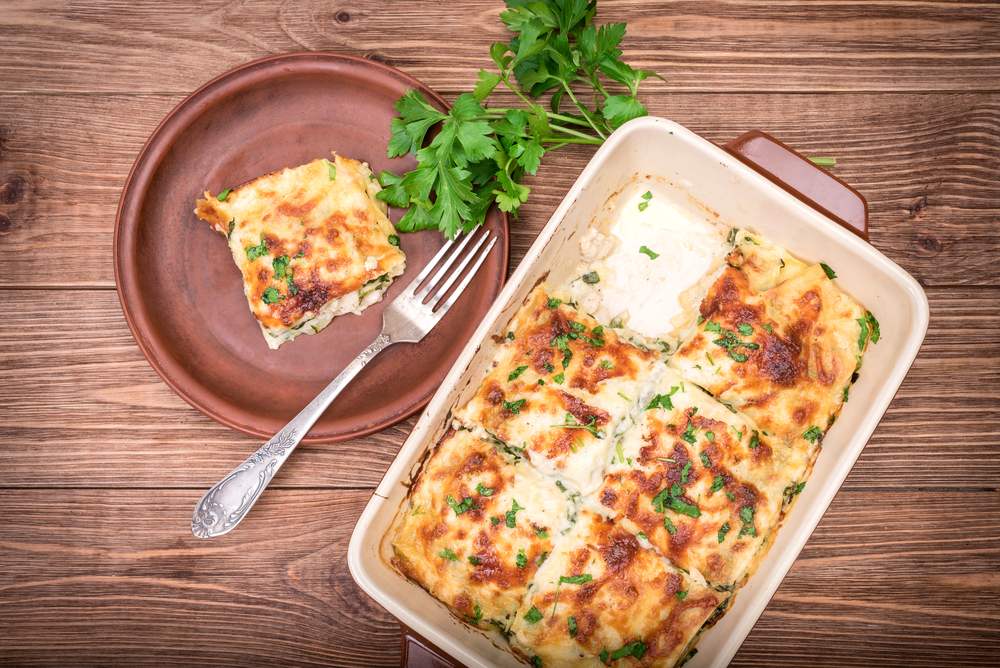 In this blog today, we are going to learn how to cook a chicken lasagna. Tasty things make the food more interesting. You"ll love this easy chicken lasagna recipe after having the views of your family and friends.
You can make it at home with the extra flavor with a similar taste like restaurant-style. Plus point of this recipe is you can feel the savor of all herbs and spices. This recipe is full of creamy white sauce.
We are making a ten device so you can feel that taste in a better way. With our instructions and steps, you can make this chicken lasagna recipe in less than 40 minutes. It is the recipe that contains lots of healthy nutrition.
If you are looking for a perfect dish that has calcium, iron, fiber, and protein so this chicken lasagna is the ideal dish for you. In this recipe, we take the ingredients which are full of calories and low fat.
Chicken Lasagna Recipe
Required Ingredients:
1 big boneless chicken breast
1 Red Bell Pepper
1 Yellow Bell Pepper
1 Green Bell Pepper
2 Medium-sized Onions
2 Tomato
10-12 cloves of Garlic
Mozzarella cheese
1 Tablespoon Mixed Herbs
1 Tablespoon Chili Flex
3-4 Tablespoon oil
3 Table Spoon of Tomato Ketchup
Salt as per taste
1 Tablespoon Black Pepper
2 Tablespoon Butter
50 Gram All-Purpose Flour
1 Cup Milk
1 Tablespoon White Pepper Powder
Grated Cheese
1 Cup Water
How to Cook Chicken Lasagna?
Procedure to cook chicken lasagna recipe
Take chicken breast and slice it in medium cubes and when you're chopping it, please be careful.
Now take red yellow and green bell peppers on chopping board and chop them in small pieces. Take two onions and cut them in small cubes too.
Take tomatoes and crush them very well and remove the peel of the plant. It is like tomato puree. Take cloves of garlic and chop them in tiny pieces.
Take a non-stick pan and pour oil and heat it after that pour onions and small garlic pieces on it and let them fry. The garlic turns into golden brown color.
Now add chicken cubes on it and cook for 7 to 10 minutes. After this add, grated tomato, tomato ketchup, chili flakes, black pepper, mixed herbs, and salt as per your taste requirement. Now mix all the ingredients well.
Now, in all parts, add all chopped bell peppers and again mix it. With the help of water cook it for 5 to 8 minutes.
Take button on another pan and now add all-purpose flour on it. Now in this stage add milk and white pepper powder then Mixed well, if required, add water or milk to make perfect consistency.
Take lasagna sheets and boil it for three to five minutes till it's half cooked. Now range the remaining water from the leaves.
Take a container and reset with oil done for the first layer of white sauce after that lasagna sheets on it, then the third layer of chicken stuffing. Pour some mozzarella and processed cheese. Repeat this process and for better flavor. And top with grated processed cheese sprinkle mixed herbs.
Preheat the oven at 180°C bake for 20 to 25 minutes at 200°C, and after that cooking process, you can check your lasagna recipe.
The chicken lasagna recipe is now ready, and you can taste it. You'll surely love it and wants to cook it again.
The recipe is full of mouthwatering flavors and lasagna sheets, also making it yummy. In this recipe boneless chicken is giving this recipe a nutrition benefit. It's easy to cook, and you can also chop your all veggies anytime and store it on your fridge.
You can also browse other popular chicken recipes and other recipes for dinner from Allmyrecipes.
Pro-Tip
We are using here tomato purry and tomato ketchup both because it makes your lasagna tangier. You can go with only one of them. In recipe use small pieces of ginger and garlic instead of their paste.
Easy Chicken Lasagna Recipe