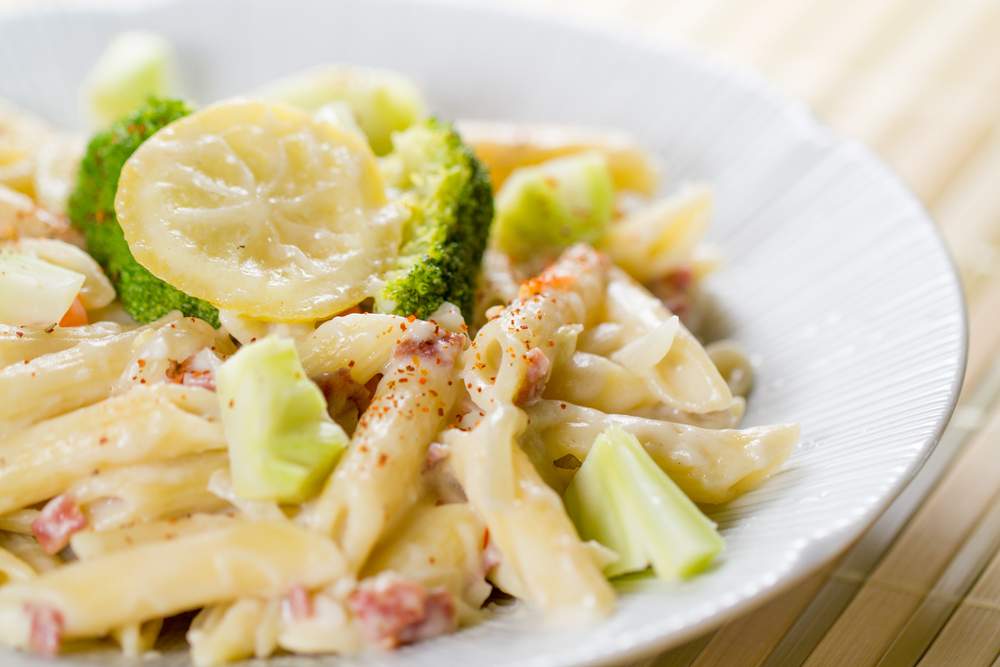 Our delicacies depend on the type of ingredients that we choose. We can get the taste buds stimulated for ourselves and others even by making a concoction of some of the basic ingredients.
It is our skill only that can convert something basic into something awesome. That's how we picked our today's creamy lemon chicken pasta recipe.
When it comes to something fancy yet delicious, there is no second thought as a bowl of wholesome Lemon Chicken Pasta.
Its mouth-watering properties can add a star to any of your gatherings. Be it a Potluck or a get together with the near and dear ones, I can bet that our today's pick can never be a fail.
Here I have to mention a very basic yet unique combination of ingredients are Lemon & Chicken.
The tangy flavor of the lemon when mixed with our very own chicken pieces, it creates something heavenly.
A simple yet classic combination of food can make our day. Some of the dishes of our times can be an absolute winner when placed on the table.
Not only it completes a perfect platter but also it adds a five-star batch to your recipe book. So if we go for a further combination of this fail-proof ingredients duo, creamy texture will never disappoint you.
To make it a full meal, we go for adding up to the Pasta. So let us not do a further delay and start making this tasty, tangy & awesome combo dish together.
To add more, we will never disappoint our audiences by bringing about a prolonged method of preparation.
Hence the main secret is that it takes very little time to prepare this meal that we can even think in actual.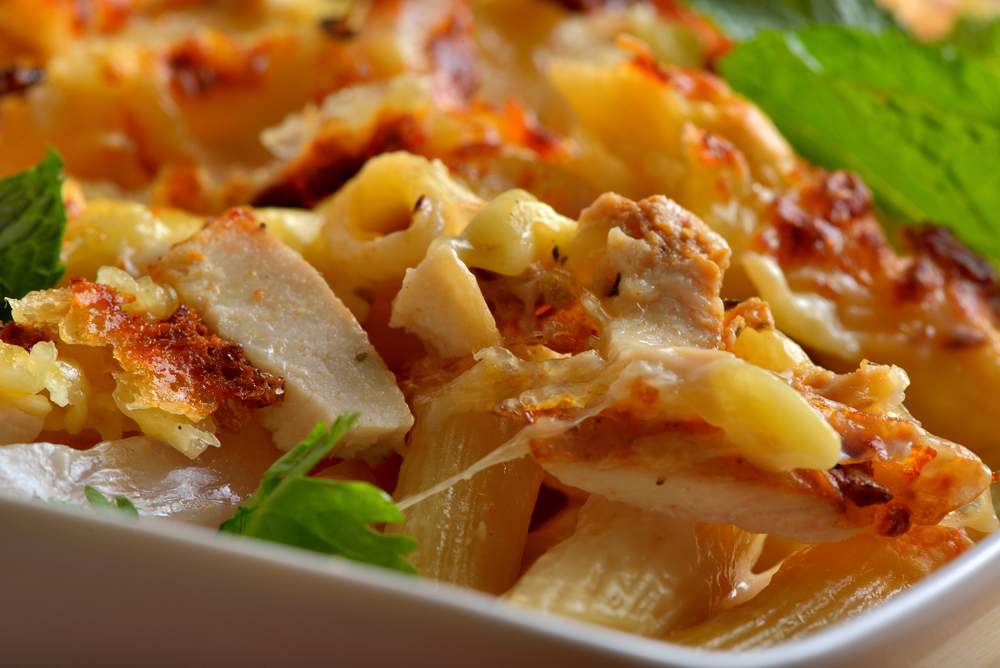 Creamy Lemon Chicken Pasta Recipe
Prep Time – With a pre-arrangement of necessary ingredients, it can take up to 12-15 minutes of preparation time
Total Servings- 4 Persons
Cooking Method – One Pot
Ingredients to Follow – 
Two chicken breasts (boneless) separated into small pieces
Penne Pasta. Here we have used penne pasta only. But you can opt for any other Tabular or shaped pasta like Rotini Pasta, Farfalle, Macaroni, to name a few.
4 cups of Chicken Broth
1/4th cup of fresh Lemon Juice
1/3rd cup of Fresh Cream
Lemon Zest
1 onion, sliced
4 cloves of minced Garlic
1 tablespoon of Olive Oil
½ tea-spoon of dried Basil
½ tea-spoon of chili flakes
Salt & Paper to taste
Cooking Instructions 
To start with, we need to place a considerably large cooking pan on the flame.
Then we can add a tablespoon of Olive Oil to it.
After that, we need to add the sliced Onions to it.
The Onion needs to be cooked for about 20-30 seconds till it converts into transparent form.
Then we have to add the chicken pieces to it & the onion and the chicken have to be cooked together until it turns light golden brown.
At this point, we can add all the other spices to it one by one & cook for some time to allow the spices to mix well.
In the next part, we need to add the Pasta & the pre-measured Chicken Broth to this mixture & the whole has to be cooked for another 7-8 minutes until it softens the Pasta.
To top it, we add the freshly extracted Lemon Juice to it, as well as the Lemon Zest.
Mix it well & add the Heavy Cream to this mixture. At this point, it is advisable to switch off the flame when the dish has enough juice to it.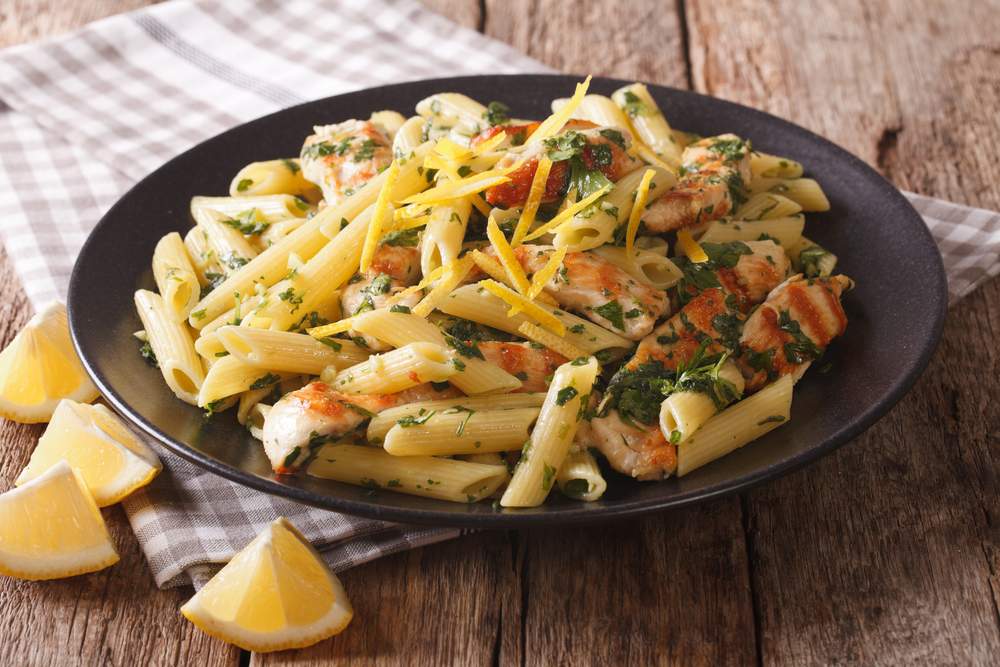 The reason behind this is that the Pasta will be self-cooked even after removing the pan from the heat until the juice is dry.
That's how our smoking-hot Creamy Lemon Chicken Pasta is ready to eat & is ready to win the dinner night.
We can garnish the dish by adding a lemon slice on the top, some dried basil, and some slash of parmesan cheese to give a cheesy flavor to it.
Again and always we should cook the Pasta wisely with utmost concentration so that the pasta is not broken by overcooking or it should not be undercooked as well. Taking notes of some small things, this dish can be stapled to any party.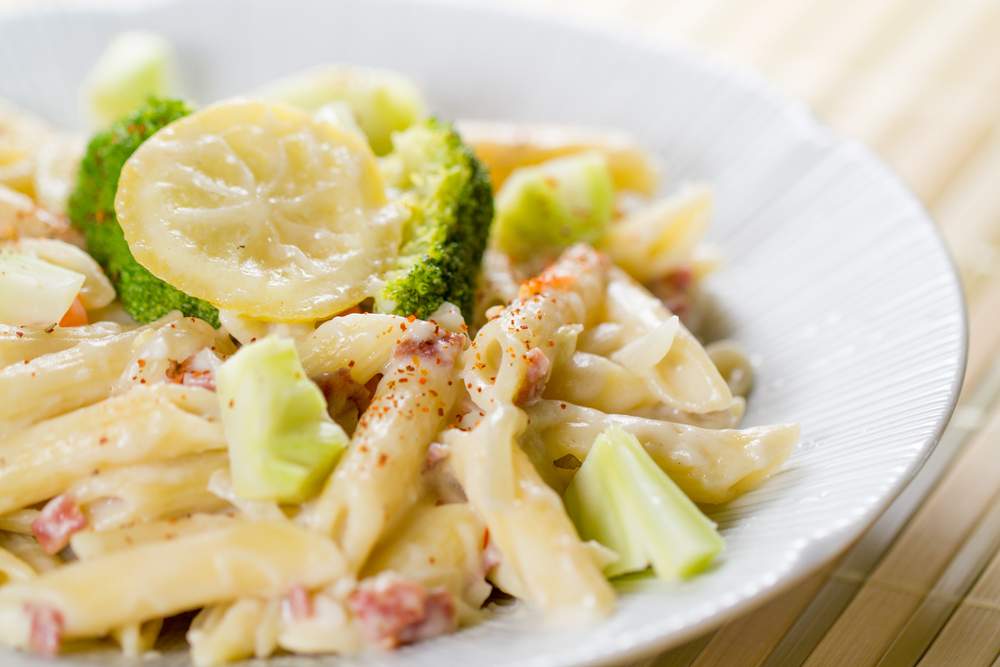 Creamy Lemon Chicken Pasta Recipe
When it comes to something fancy yet delicious, there is no second thought as a bowl of wholesome Lemon Chicken Pasta.
Course
Appetizer, Side Dish
Ingredients
Two chicken breasts (boneless)

Penne Pasta

4 cups of Chicken Broth

1/4th cup of fresh Lemon Juice

1/3rd cup of Fresh Cream

Lemon Zest

1 onion sliced

4 cloves of minced Garlic

1 tablespoon of Olive Oil

½ tea-spoon of dried Basil

½ tea-spoon of chili flakes

Salt & Paper to taste
Instructions
To start with, we need to place a considerably large cooking pan on the flame.

Then we add a tablespoon of Olive Oil to it.

After that, we need to add the sliced Onions to it.

Onion needs to be cooked for about 20-30 seconds till it converts into transparent form

Then we have to add the chicken pieces to it & the onion and the chicken have to be cooked together until it turns light golden brown.

Now we will add all the other spices to it one by one & cook for some time to allow the spices to mix well.

In the next part, we need to add the Pasta & the pre-measured Chicken Broth to this mixture & the whole has to be cooked for another 7-8 minutes until it softens the Pasta.

To top it, we add the freshly extracted Lemon Juice to it, as well as the Lemon Zest.

Mix it well & add the Heavy Cream to this mixture
Keyword
chicken pasta, lemon chicken pasta
Creamy Lemon Chicken Pasta Recipe