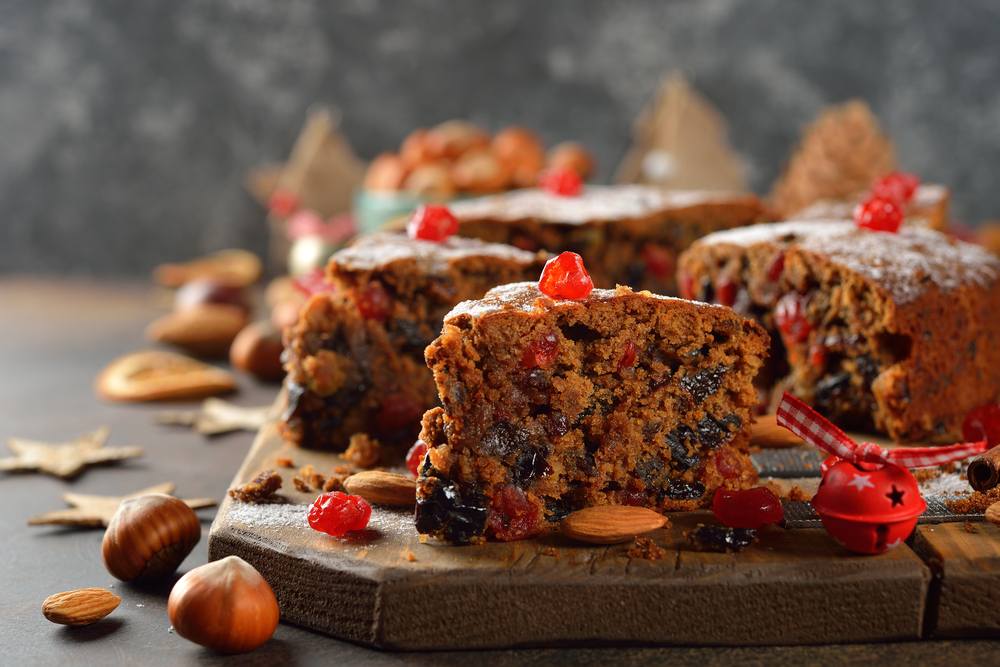 Do you want to surprise your loved ones with a yummy homemade old fashioned fruitcake recipe this Christmas?
Here's a great news for you! This fruit cake recipe that we are going to share in this blog post is all you need to make a delicious fruit cake at home.
You can use this recipe to make a fruitcake on any special occasion.
What's So Special about a Homemade Fruitcake?
Sure, you can give your loved ones many expensive gifts. But a homemade cake is something that has a personal touch. Your family and friends would love it for sure.
Not only the fruitcake satisfy the taste buds of your near and dear ones, but it will also make your Christmas eve or holiday extra special.
The best thing about this fruitcake recipe is that with these instructions, you can make a delicious cake quickly and easily.
This fruit cake is made up of dried fruits and many other ingredients.
There are some ingredients that you already have in your kitchen.
Ingredients
Here is a list of ingredients you need to prepare a fruitcake with our fruitcake recipe. However, you can substitute your own favorites.
1 ½ cup diced dried pineapple
1 cup diced dried apricots
1 ½ cup chopped dates
1 ½ cup raisins
¾ cup rum, brandy, apple juice, or cranberry juice
Heaping 1 cup candied red cherries plus additional for decoration
2 cups dark brown sugar
¼ teaspoon ground allspice
1 teaspoon salt
1 teaspoon baking powder
4 large eggs
¼ teaspoon ground nutmeg
1 teaspoon ground cinnamon
3 cups flour
¼ cup boiled cider, golden syrup, or dark corn syrup
2 tablespoons black cocoa
½ cup apple juice, cranberry juice, or water
2 cups chopped and toasted nuts
Rum, brandy, etc for toppings
Fruitcake Recipe Steps
Here are the steps to follow to make a super delicious fruit cake :
Step 1
The process begins with preparing the fruit. For this, take a non-reactive bowl, the fruit, and the liquid of your choice. Combine the fruit with the liquid and keep it in the bowl. Leave it overnight. If you don't want to wait until tomorrow, then microwave everything and leave it for one hour.
Step 2
Once you are done with the first step, take the oven and preheat it to 300°F. This fruitcake recipe is the perfect choice for those looking to make 3 dozen individual muffin-size cakes, 2 standard 9″ x 5″ loaves, or 6 to 8 medium 3″ x 5″ loaves. Choose pans according to your requirements and grease them lightly.
Step 3
Our third step involves making the batter. For this, take a large bowl. Place the butter and dark brown sugar and beat together until they get mixed properly. Beat in the salt, baking powder, and spices. Your next task is to beat in the eggs. Now, break all of them one at a time. However, you should consider using the remnants at each and every addition.
Step 4
Mix the flour and cocoa in another bowl. You need to add the syrup and the flour mixture to the mixture of the bowl and beat to mix them. Next, consider stirring in the juice or water until everything combines properly.
Step 5
The step number five of our fruitcake recipe involves spooning the batter into the pans. You need to fill them about ¾ full. Take the cakes and put them on the middle shelf of the oven. Depending on the type of cake you are making, you may need to bake the cakes from 60 minutes to more than 2 hours.
Step 6
Once the cakes are baked, remove them from the oven. Loosen the edges of the pan and remove the cakes carefully. However, you can store the cake in the pan as well.
You can use rum or brandy to brush the cake.
You can also use the simple syrup for the purpose.
Some Important Tips for Fruitcake Recipe
It's important to brush the cake with syrup or alcohol if you are looking to store it for weeks. It will keep the cakes moist for up to 6-8 weeks.
Keeping the muffin-sized cakes in a plastic bag will help keep the cakes moist for a long period of time.
Hope you enjoyed this old fashioned fruitcake recipe guide. Now make the cake and delight your loved ones.
You can also try different types of cakes recipes which will make your party more crazy and toothsome.
Old Fashioned Fruitcake Recipe