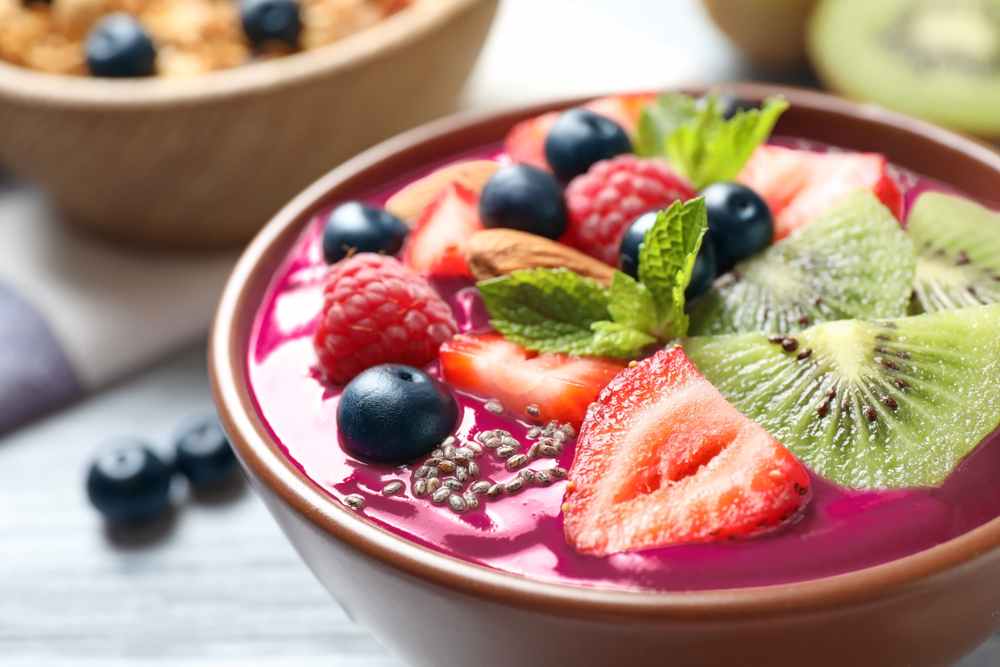 Acai bowls may be customized with your favorite fruits and nuts, which are then combined to create the ultimate morning dish. Learn how to create an acai bowl that is a knockoff of the Jamba Juice version.
Homemade Jamba Juice Acai Bowl Recipe
Ingredients
Smoothie
A half-cup of Greek yogurt
One-fourth cup of acai purée
1/4 cup of blueberries
One-fourth cup strawberry
Sliced banana – 1
Toppings
Grainy cereal
Sliced banana
1/4 cup of berries
Strawberries: 1/4 cup sliced
Pumpkin seed: 1 tbsp.
A teaspoon of coconut flakes
1 tbsp. honey
One kiwi is optional.
Instructions
Blend the ingredients in a blender until they are completely smooth. The ingredients include Greek yogurt, acai puree, blueberries, strawberries, and bananas.
Pour the acai smoothie into a bowl and serve immediately after blending on high for 30 seconds, or until smooth, according to your preference.
Pop some blueberries and strawberries on top of an acai bowl with sprouted granola, banana slices, and blueberries (or any of your preferred fruits).
As a final garnish, pumpkin seeds, desiccated coconut, and honey can be added to the dish.
Serve the acai bowl inspired by Jamba Juice on a large platter.
Homemade Jamba Juice Acai Bowl Recipe