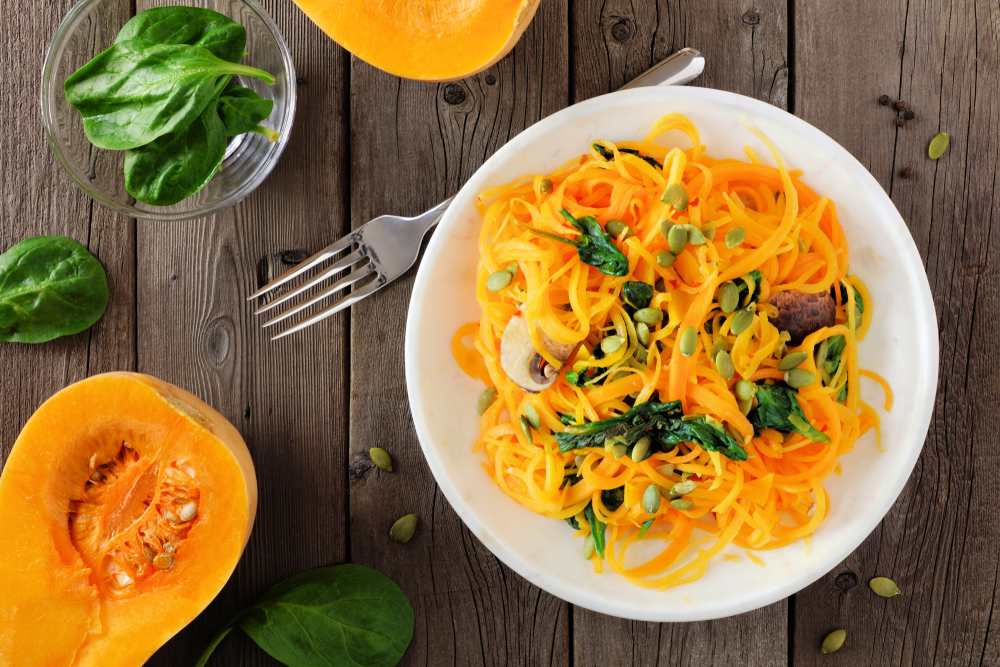 Butternut squash noodle is a delicious alternative to regular pasta. This means it is also a low-calorie noodle that is equally tasty to eat. One thing is that it is obtained from vegetables. This way, you can add an ample amount of vegetables into your everyday diet.
You can cook butternut squash noodles just like pasta. It has a nutty flavor with a slightly sweet taste that gives a good aroma to your pasta.
There are several recipes that you can try out with the help of butternut squash noodles. Now you will get to know how to cook butternut squash noodles in a healthy and tasty way. 
How to Make Butternut Squash Noodles 
Before we look into recipes, you must know how to extract noodles from butternut squash. You will need a spiralizer for this purpose. This is kitchen equipment that is commonly available these days. Moreover, this is available at reasonable prices.
If this is unavailable, you can make butternut squash noodles from a julienne peeler. This is a cheaper and easier option than a spiralizer. But the easiest option will be to buy ready-made spiralized butternut squash noodles. 
● Take butternut and peel off the skin.
● Chop off both the ends as bulbous might contain seeds inside 
● Now take the butternut squash and place all of them firmly in the spiralizer.
● Turn the handle continuously to make noodles.
This is the way to make noodles. In the julienne peeler, you need to place the butternut squash and follow a similar method that is used to make juliennes in vegetables. 
Now let us move to the cooking process of butternut squash noodles. 
After making the noodles, you can follow these steps. 
● Take a skillet to saute the noodles at first.
● Make sure to toss them frequently in medium heat.
● This will cook in a few minutes and become tender.
● You can choose a consistency depending on the time you give for the noodles to cook.
● Add a pinch of salt.
● Instead, you can also boil the noodles just like boiling pasta.
Now the noodles are done. You can create any recipe with the noodles. Here is a quick pasta recipe that you must try with butternut squash noodles. 
Parmesan Noodle Recipe 
● Take a large iron pot or skillet and place it on a medium to high flame.
● Add a little amount of unsalted butter and 3-4 tablespoons of cooking oil.
● Once the oil is hot, add chopped garlic.
● Let the flavor of garlic spread in the butter, and then add the set-aside noodles.
● To this, add freshly crushed pepper and toss for a few minutes.
● When the butternut squash noodles are soft, you can add parmesan cheese, parsley, and a little lemon zest.
● Lemon juliennes are also great for this recipe.
● Let all the ingredients cook for a bit and allow the cheese to melt.
● Convert this into a plate or serving bowl and add some more cheese
● To complete the seasoning add the leftover parsley and lemon zest.
This is a quick cheese recipe with butternut squash noodles. This tastes like spaghetti as it has a rich noodle texture. This is a healthy alternative to flour-based pasta.
Lemon Butternut Squash Noodles Recipe
This is a fresh recipe with the flavors of lemon, garlic, and cheese. This recipe can also be given as a side dish to a vegetable or chicken parmesan too. This will make a complete dish for lunch or dinner. Just in a few minutes, you can make this quick recipe. You may cut the noodles if they are too long for cooking. 
● Take a skillet and add butter.
● After the butter melts, add chopped garlic.
● Let the flavor spread and add the butternut squash noodles.
● Toss it with tongs and add fresh rosemary to give flavor
● Then add salt and pepper to the noodles.
● Let the noodles cook for a while 
● Now add fresh lemon juice and stir it.
● Finally, add parmesan cheese.
Tips to Cook Butternut Squash Noodles 
It is recommended to use freshly taken butternut squash. You can also make the noodles and store them in the freezer. But this will not have the crunchy yet tender texture like the one that's freshly made.
Just like any other pasta or spaghetti, you can serve the cooked noodles with any main dish. This can be seafood, chicken, or vegetable-based dishes.
It goes really well with parmesan dishes. You can cook them with any desired seasoning according to the main dish that is prepared. In this way, it is clear how to cook butternut squash noodles. 
You can follow a few tips to follow while cooking the noodles. 
Always make sure to wash and clean them before spiralizing into noodles. 

If the main dish is sauteed or fried food, you can go with boiled butternut squash noodles. Otherwise, sauteed noodles taste good for all types of dishes. It is advisable to blend the seasonings with the main dish.

Using parmesan cheese for all butternut squash noodles is an ideal option. Avoiding onions while cooking the noodles will give them a unique taste. Instead, garlic can be substituted as it blends well with the noodles.

Flavors like rosemary, basil will give a fantastic taste to the noodles. For a unique flavor, kosher salt can be used instead of regular salt. 
How To Cook Butternut Squash Noodles (Must Try)