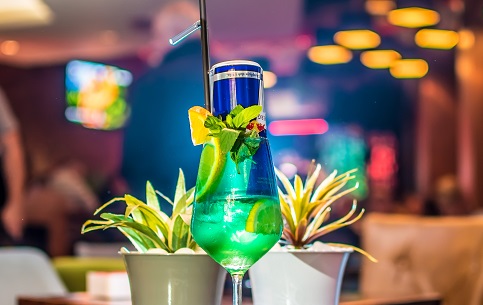 Red Bull and blue curacao give it a vivid green hue, making it a lively alcoholic beverage. If you're going all out for St. Patrick's Day, this contemporary take on a green drink will brighten your mood.
Irish Trash Can Drink Recipe
Following these instructions will help you prepare an Irish Trash Can Drink:
3 minutes to be ready
1 minute of cooking time
Total time spent: 4 minutes and 42 seconds.
Classification: Alcoholic Drinks
Mixing is the method.
Ingredients
Half an ounce or one tablespoon of vodka
2 tablespoons or 1 ounce of blue curacao
Gin: 1 Tbsp or 1/2oz
1 Tbsp of light rum
Red Bull can
Peach schnapps: 1 Tbsp or 1/2 ounce
1/2 ounce or 1 Tbsp of triple sec
Ice
Instructions
To begin, pour the blue curacao into a highball glass and then drop the ice cubes until they fill two-thirds of the way up the glass.
Now, combine the vodka, gin, light rum, peach schnapps, and triple sec in a mixing glass. It only has to be stirred once.
Before you finish, slightly crack open the red bull can, flip it over, and insert it inside the glass. Allow the can to rest on the inside rim of the glass to keep it in place.
Drink the trash can drink recipe slowly, via a straw, to give the red bull time to infuse into the drink!
Irish Trash Can Drink Recipe