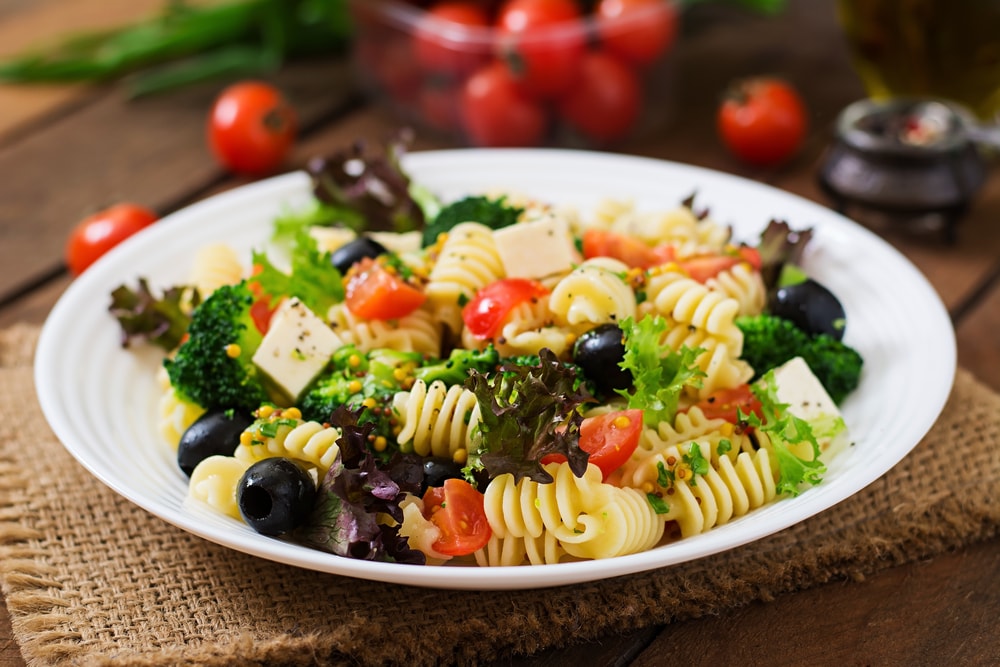 In this blog, we've discussed how to make the best ever pasta salad recipe in complete detail. Keep reading if you're really feeling enthusiastic to excite your or your guest's taste buds.
You can make cool pasta salads in just a fling and enjoy the dish at potlucks or picnic parties.
The recipe tastes awesome and is extremely easy to make.
Moreover, it can be prepared in just 15 mins.
It can also be stored for the whole week and can be served to kids as an evening snack or on days when you are not willing to cook.
Pasta salads are go-getter every time you crave something tasty and don't have much time to cook some delectable cuisine.
The Best Ever Pasta Salad Recipe
Ingredients:-
1 pound pasta, preferably Rotini
1/2 cup parmesan (you can also use cheese of your choice)
1/4 cup baby carrots
1/3 cup broccoli
1 cup olive
1 cup yellow bell paper
1 cup cherry tomatoes
1 cup thinly sliced zucchini
1/3 cup thinly sliced scallions
1 cup mozzarella balls
Ingredients for Italian Dressing:-
1/3 cup red wine vinegar, white wine vinegar or champagne vinegar
1/2 teaspoon fine sea salt
1/2 teaspoon black pepper
1/2 teaspoon dried oregano and Basil
2-3 tbsp juice from pepperoncini jar
1/2 cup olive oil
Let's Prepare Pasta Salad:-
Boil Pasta in a pot (for about 5 to 10 minutes) and keep checking it to know when it's done

Drain the pasta and rinse it under cold water to cool it completely

Make sure not to add the dressing to warm pasta as it would pasta soggy and sticky

Pasta should be kept in semi-rough texture for sauce-soakage

Keep pasta aside and chop the veggies

Dice them in the same size and avoid cutting different vegetables in different shapes

Drain water and mix parmesan, veggies, and pasta in a large bowl

Pour dressing over it and toss the ingredients to evenly coat

Consider using tangy Italian dressing
Best Pasta salad is usually made with good solid textured pasta. Rotini is most preferable. Yummy and tasty pasta is ready to eat and best if served chilled. This is the best dish for potlucks or a picnic party or if you have leftover cheese and vegetables in your fridge and want to turn it into something exciting.
The dressing used can be made easily with the things available in your kitchen. It can be prepared quickly, and can easily be customized as per your taste. The toppings used can easily be changed according to your wish. You can try using feta cheese instead of mozzarella and dried tomatoes instead of olives.
Your Pasta Salad recipe is ready to be served. Could it get any easier? The recipe is very tasty and tastes best when served chilled. So, store it in the refrigerator, and serve it cold. You can also keep the bowl in the refrigerator for half an hour after mixing the ingredients.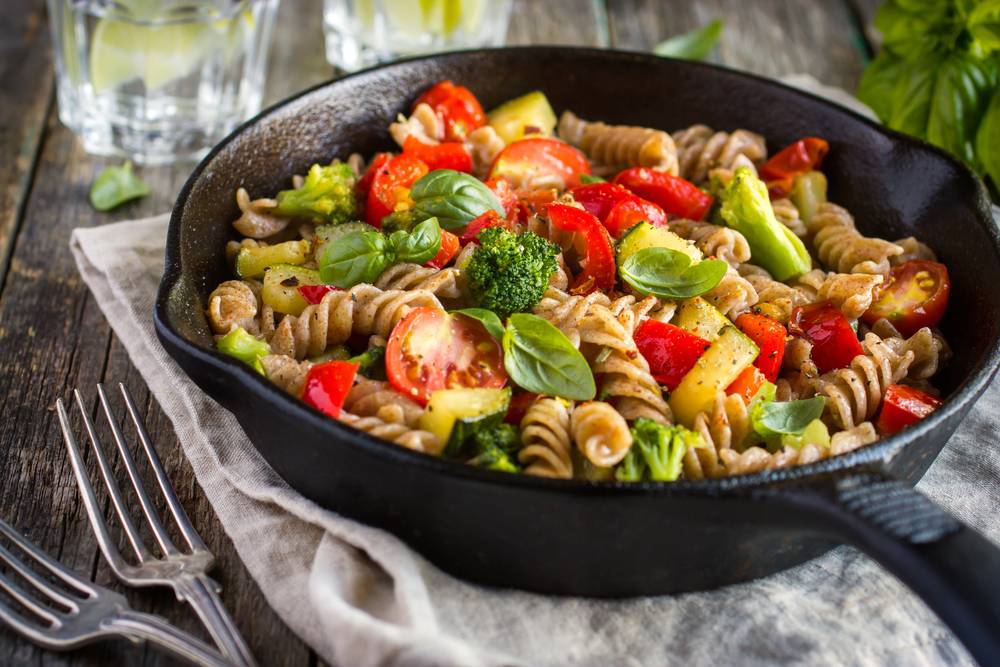 You can also add your favorite ingredients to the salad if you don't like some of the veggies used in the recipe. The dish is perfect for a get-together or last-minute lunch plans. This pasta salad recipe is loved by people of all age groups, therefore, consider trying it once. We're sure that you will feel like making this salad again and again and will fall in love with it. Taste the salad before serving and add more dressing if needed.
Feeling excited, right? Try making this mouth-watering dish and quench the desire of your taste buds to taste something awesome. You can try other recipes also and Let us know your thoughts in the comment section!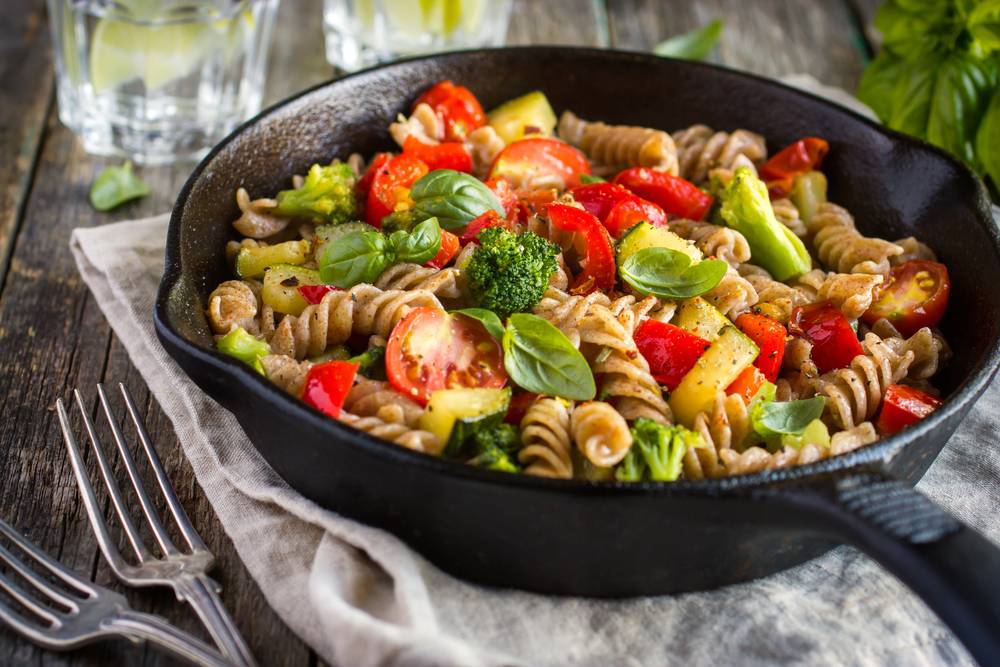 Best Pasta Salad Recipe Ever
Feeling excited, right? Try making this mouth-watering best pasta salad recipe ever and quench the desire of your taste buds to taste something awesome
Ingredients
1 pound pasta, preferably Rotini

1/2 cup parmesan (you can also use cheese of your choice)

1/4 cup baby carrots

1/3 cup broccoli

1 cup olive

1 cup yellow bell paper

1 cup cherry tomatoes

1 cup thinly sliced zucchini

1/3 cup thinly sliced scallions

1 cup mozzarella balls
Make an Exquisite Dressing
1/3 cup red wine vinegar, white wine vinegar or champagne vinegar

1/2 teaspoon fine sea salt

1/2 teaspoon black pepper

1/2 teaspoon dried oregano and Basil

2-3 tbsp juice from pepperoncini jar

1/2 cup olive oil
Instructions
Boil Pasta in a pot (for about 5 to 10 minutes) and keep checking it to know when it's done

Drain the pasta and rinse it under cold water to cool it completely

Make sure not to add the dressing to warm pasta as it would pasta soggy and sticky

Pasta should be kept in semi-rough texture for sauce-soakage

Keep pasta aside and chop the veggies

Dice them in the same size and avoid cutting different vegetables in different shapes

Drain water and mix parmesan, veggies and pasta in a large bowl

Pour dressing over it and toss the ingredients to evenly coat

Consider using tangy Italian dressing
Keyword
best pasta salad recipe ever, pasta salad recipe
Best Pasta Salad Recipe Ever