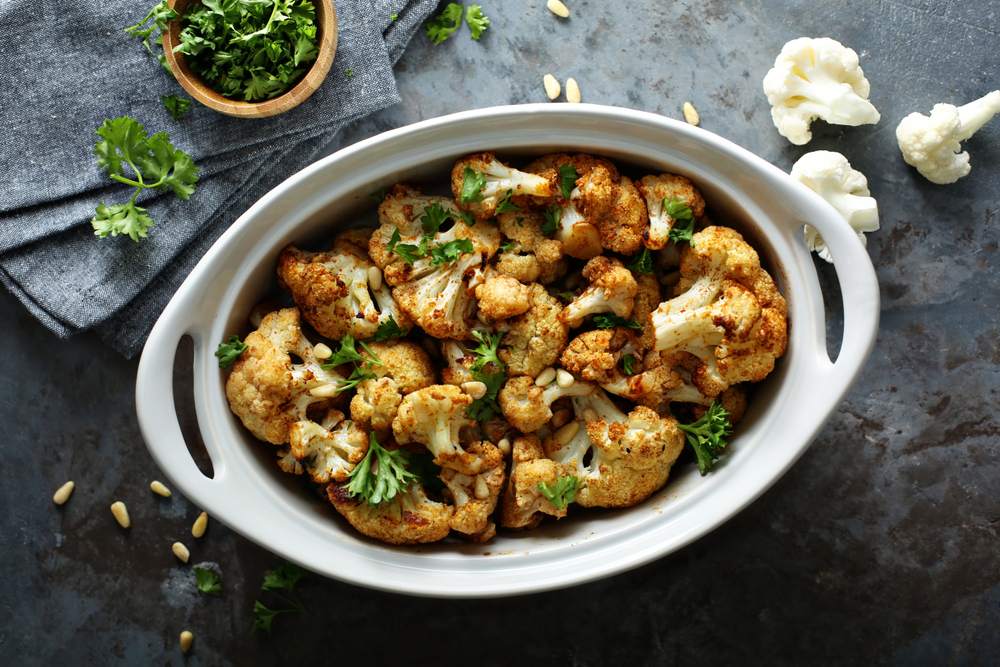 Do you love eating cauliflower dishes, this best roasted cauliflower recipe is something you must try!! Keep reading because it's going to be a perfect dish for the winter.
It's not a complicated recipe to cook because it can be prepared in 30-40 minutes, and you can use it as a tasty snack and in delicious starter too. If you're going to make Roasted Cauliflower Recipe with our instruction, then you will see your people will love it, and the other people who don't like Cauliflower will also start enjoying it after eating your dish. You can add other veggies too in it and make it a healthy dinner too. This dish contains full nutrition and vitamins, which is perfect for all.
Roasted Cauliflower Recipe Step-By-Step
Required Ingredients
One head cauliflower
2 tbsp soy sauce
Lemon juice from half of the lemon
1/2 tsp smoked paprika
1/2 tsp chili powder or chili flakes
3 tbsp olive oil
Three garlic cloves, minced (optional)
1/2 tsp turmeric
Salt and freshly ground black pepper
There are three versions of Roasted Cauliflower Recipe, and they are like Italian, Mexican, and Indian. All are delicious and crunchy in their taste way. In this recipe, you'll find the taste of all three, and you'll feel it better too. Olive oil makes it more tasty and mouth-watering; also, you can say it's the main ingredient of it, so doesn't skip.
Procedure: How to Make Roasted Cauliflower Recipe
In the first step of making roasted Cauliflower, preheat your oven to 425 degrees F 220C. Now just line-up picking sheet with parchment paper and adjust it very nicely.
In this step, take your Cauliflower and wash it clearly and chopped it with a sharp chef knife into the medium pieces. When you cut it into pieces, then be careful.
Now take a bowl and pour our main ingredients olive oil, lemon juice, soya sauce, and sprinkle spices also in all over Cauliflower. We are taking all these ingredients as the measurement, as we mentioned in the required elements.
After adding all the ingredients in Cauliflower, toast them with your hands and coat well. Toss it well until all parts separately distributed in each Cauliflower.
Now place cauliflower florets in one layer on the prepared baking sheet which we made previously. Please separate the clearing in the foil and take care of the thing that they'll not upon each other they'll separate, and on the surface of the sheet.
Now, in the last step, check your oven and roast the Cauliflower until they are lightly brown. It will take 30 to 40 minutes and after that check it. After cooking, you can feel the aroma of all spices mixed with Cauliflower.
Now your Roasted Cauliflower Recipe is ready. You can serve it with the fresh leaves of coriander. Just sprinkle all over the dish and serve it in front of your guest and family. If you want to make it more attractive and lovable to your children, then you can add the veggies, which are your children's favorite veggies.
This dish contains nutrients that are required to your body and fat; increasing ingredients are also not available in it. This dish is full of taste and vitamins. In the winter season, this dish is preferable by everyone. It's a healthy snack and mouth-watering lunch dish to all. Taste + Healthy Nutrition are the key feature of this dish and making it so accessible too.
Tip-  Here, I have an additional suggestion for all to make Roasted Cauliflower Recipe more easy and quick. It's a lot easier to put all the wet and dry ingredients into a cup, mix them well then pour it over the vegetables. Then toss the veggies around to distribute it well.
Best Roasted Cauliflower Recipe