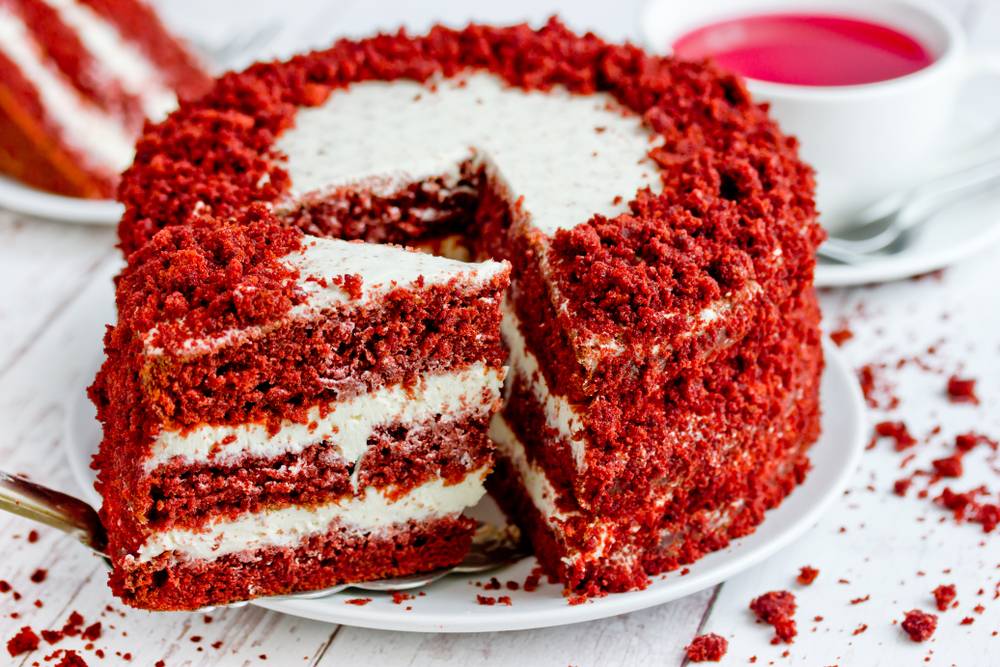 Red velvet cake – a yummy creamy delight – is known for its fluffy and soft texture along with buttery taste. This cake is named for its moist velvety texture. As this variation is a perfect balance between acidity and chocolate, everyone enjoys its yummy taste.
The creamy cheese frosting enhances the smooth and fluffy texture of the cake and makes it everyone's favorite. However, you can surprise the younger members of your family with this yummy red velvet cake recipe.
With the help of a handful of ingredients, you can prepare a red velvet cake at home. Though different variations are available in red velvet cake, we are going to share the easiest and best red velvet pound cake recipe.
What makes red velvet pound cake so popular?
Red velvet cake is considered to be the most delicious and yummy one for its soft and velvet-like texture. In each bite, you can relish superb softness and the creamy taste. Red velvet cake is made up of a little amount of cocoa powder.
Though it is mild, yet it is enriched with delightful flavors. While preparing the cake in your own kitchen, the titillating tongue aroma will make your mind full of inexplicable happiness.
So, don't wait anymore. Try out this red velvet cake recipe at your home.
Which ingredients are required for the best red velvet cake recipe?
Making soft, and rich buttery red velvet cake comes with a lot of fun. Not only that, but also it is a great challenge to prove your culinary skill. However, there's nothing to get worried about it. You need to follow the instructions properly with the proper amount of ingredients. For sure, you will end up achieving success. The ingredients that you will require is –
Ingredients required for the best red velvet cake recipe
The classic Red velvet cake has two layers in it and the melt in mouth texture makes it a special American dessert. Whether it's a festive time or a weekend evening, you can surprise your guests anytime with delicious red velvet cake frosted with creamy cheese. Now, carefully note down the ingredients to make sure each bite will end up with a Wow!
Cake –
• All-purpose flour ( 2 and ½ cups) or Cake flour ( 2 and 1/2 cups)
• Cornstarch ( ¼ cup)
• Unsweetened cocoa powder ( 2 tbsp)
• Baking soda ( 1 tsp)
• Salt ( ¾ tsp)
• Unsalted butter ( ½ cup)
• Canola oil or vegetable oil ( 1 cup)
• Granulated sugar ( 2 and 1/8 cups)
• Eggs ( 3)
• Vanilla extract ( 2 tsp)
• Distilled wine vinegar ( 1 and ¼ tsp)
• Red food color ( 2-3 tbsp)
• Buttermilk ( 1 cup)
Creamy cheese frosting –
• Full-fat block cream cheese at room temperature ( 450g)
• Unsalted butter ( 225g) at room temperature
• Vanilla extract ( 2 tsp)
• Salt ( pinch) – optional
• Powdered sugar ( 4 cups or 480 g)
How do you make a red velvet cake from scratch moist?
Step 1 – First, you need to make the cake. For that, preheat the oven to 180-degree centigrade.
Step 2 – Take two cake pans ( 8-9 inches) and grease it well. Consider lining the bottom of the pan with a parchment paper.
Step 3 – Take a clean bowl and mix flour, baking soda, cocoa powder, cornstarch, and salt. Keep it aside.
Step 4 – In the next level, mix butter and sugar with the help of a standing mixer. Beat it on the medium heat until the texture gets light and fluffy. Within 3-4 minutes, you will get a perfect consistency. Consider putting oil. Add eggs to the mixture ( one at a time). Mix the eggs properly and then add vanilla extract to it. Beat the mixture properly so that there will be no lump.
Step 5 – When the eggs get properly mixed, put the oil in it and consider combining it. After that, add red food color, vanilla extract, and vinegar to the mixture and beat everything properly.
Step 6– Now, add buttermilk to the dry ingredients and make sure that there is no lump in the batter.
Step 7– It's the time to place the cake batter on the cake pan. Spread the batter evenly on two prepared cake pans. Allow it to get baked for 25-30 minutes (approx). After that, insert a toothpick into the cake and check whether it comes out clean.
Step 8 – Keep the cake on a wired rack to get cool.
For frosting –
Step 1 – Mix cream cheese, butter, and vanilla extract until it reaches light colored texture. In the next level, add sugar to it. Beat it unless and until you will get the desired consistency.
Step 2 – Place one cake onto a flat serving plate and scoop about 2 cups of cheese frosting on it. Make sure that you are spreading the frosting evenly over the top portion. Follow the same for the 2nd cake.
Step 3 – Place the 2nd cake on the top and cover up the top and sides with the remaining frosting.
Now, the time has come to relish yummy and soft red velvet cake. You can try other cakes recipes also to satisfy your taste buds.
Red Velvet Pound Cake Recipe With Cream