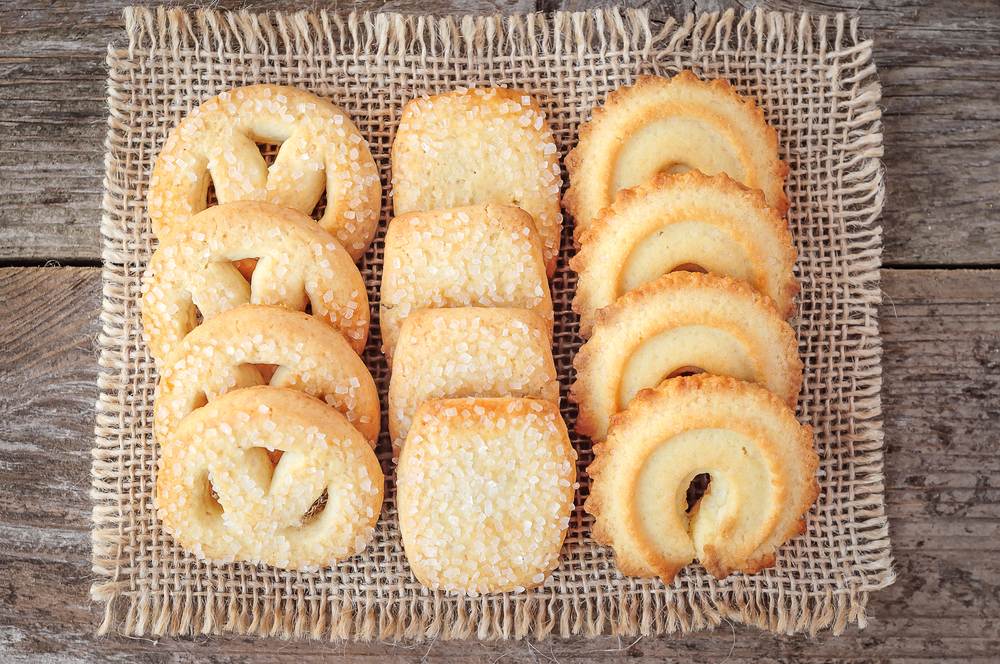 Is anyone there who doesn't like crispy, crunchy and butter-flavored cookies? Definitely, it's hard to find. Butter cookies are one of the most sought after Christmas cookies that comes with a bag of happiness and joy.
Let your family members enjoy these Christmas and New Year holidays with the super crunchy and delicious homemade butter cookies.
The Best Butter Cookies Recipe
Our homemade version of butter cookies recipe is designed to make you try out this amazing cookies without experiencing any hassle. Let's try out butter cookies and make everyone appreciate your culinary skills.
You might think trying out butter cookies recipe is a matter of difficulty which may end up with failure. No worries! Follow the instruction without zero mistakes to be a perfect cook maker. For sure, these Christmas holidays will be enjoyable for you and your loved ones.
What makes butter cookies so popular?
Authentic butter cookies are known for their rich buttery flavor and crispy yet tender texture. Whether you are thinking to give a delicious treat to your near and dear ones or you are someone passionate about trying out new recipes, butter cookies will be a good endeavor.
Ingredients for Butter Cookies Recipe
Feeling excited to try out melt in mouth textured butter cookies? A few moments to wait for the amazing delicacy! Before starting the process of preparing butter cookies, gather all the ingredients. Here is the list to follow
Unsalted butter
Egg yolks
All-purpose flour
Milk
Granulated sugar
Salt
Vanilla extract for flavor
Now, take a look at the instruction given below to make perfect butter cookies.
How do you make butter cookies from scratch?
Step by step instruction for you to follow – 
Step 1
First of all, measure the all-purpose flour by using a scale to avoid taking the wrong quantity. You can also use a measuring cup. Then let the butter to reach the room temperature.
Step 2  
Mix the butter, salt, and sugar by using a stand mixer. Make sure that the mixture becomes fluffy inconsistency and a little lighter in color. If any lumpy substance will be there in a mixture, it will destroy the crunchy taste of the cookies.
Step 3
Now, it is the time to add the egg yolks in the mixture and continue mixing it unless and until it looks fluffy and fully combined. For making perfect cooky, keeping patience is important. If the ingredients don't mix well, you can't enjoy the real crunchy taste.
Step 4
Add vanilla and mix well for the flavor.
Step 5
This is the step to mix flour and milk with the previously blended mixture. Continue mixing until it reaches the perfect thick consistency.
Step 6
Pre-heat the oven ( 350 degrees)
Step 7
The time has come to shape out the previously mixed substance. Take a 16-inch length piping bag along with a well-fitted large and open-mouthed star tip to make the shape.
Step 8 
To get an authentic cooky like shape, pipe the dough into circular motion onto the baking sheets. (ungreased)
Step 9
Put one sheet into the preheated oven for about 12-15 minutes duration and until the cookies reach golden brown color on its bottom.
Step 10
Let it get cool on the baking sheet itself. Then transfer the cookies to a wire rack to make it cool down completely. When it gets cool down completely, put it into an airtight container for storage.
So, your golden brown home-made butter cookies are ready to eat.
Ingredients with quantities
Definitely, you are planning to surprise your family members with home-made butter cookies on this winter vacation. Before heading towards the shop, take a quick look at the quantities of the ingredients.
Servings – 48 cookies Ingredients 
2 cups of All-purpose flour (240gm)
½ teaspoon salt (3gm)
1 full cup unsalted butter ( 227gm)
½ cup sugar (100gm)
2 teaspoon vanilla extract (5ml)
2 egg yolks
1/3 cup sanding sugar
Measure all the above-mentioned ingredients correctly. Do not add too much flour as it will make the cookies tasteless crunchy.
You can use sanding sugar to add a nice crunch to the edge of the cookies. Although it's optional, you can omit this ingredient.
Consider using good vanilla for the perfect flavor and to avoid feeling the taste of something artificial in your cookies.
So, enjoy this Christmas and New Year holidays with buttery and crispy home-made butter cookies.
The Best Butter Cookies Recipe