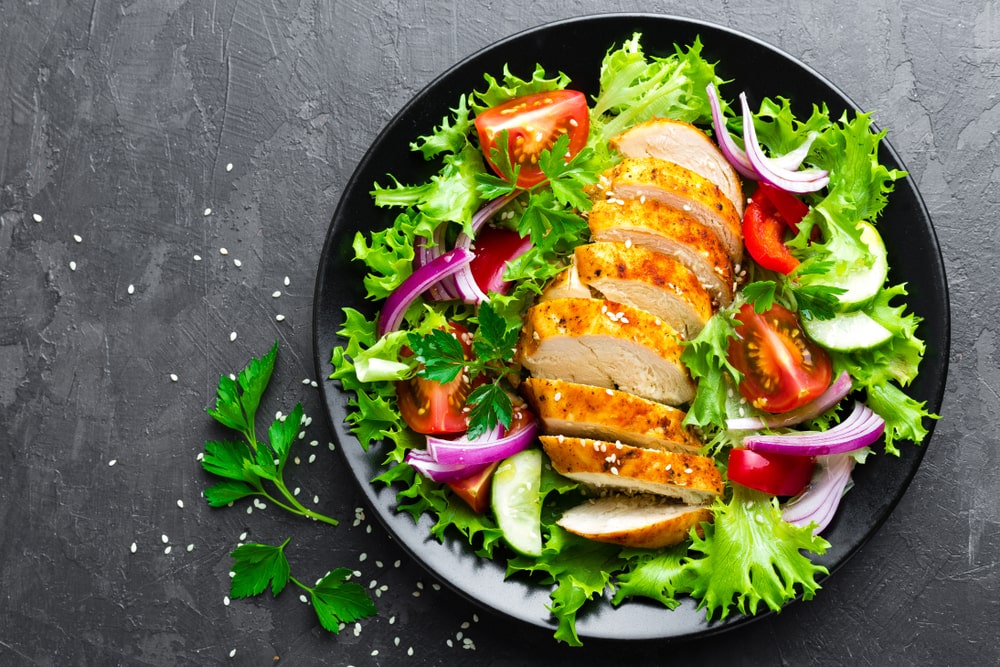 This best ever chicken salad recipe is full of energy giving bowel to eat. In this blog, you will learn how to prepare this fresh and crisp chicken salad at home.
With the healthy nutrition and benefits, there are tastes also available in this chicken salad recipe. In this salad, perfectly tender chicken, some vegetables, and beautiful dressing are available.
You can use this recipe for suppers and a great lunch. You can make this recipe in easy steps and very quickly. Store in the fridge and use it at lunchtime too.
Enjoy the salad with refreshment giving herbs, which are also energy giving sources to your body all day. Fresh ingredients make it super cool and refreshment salad too.
Healthy Nutrition
In this chicken salad, you can find the high value of nutritional things and lots of protein. You can control your burning fat on the belly button, which is increasing day by day.
If you are searching for someone eating products to control your weight, then the chicken is the perfect ingredient. It also controls diabetes and the risk of cardiovascular disease.
You can find B6 DHA and EPA on chicken.
Learn Chicken Salad Recipe Step-By-Step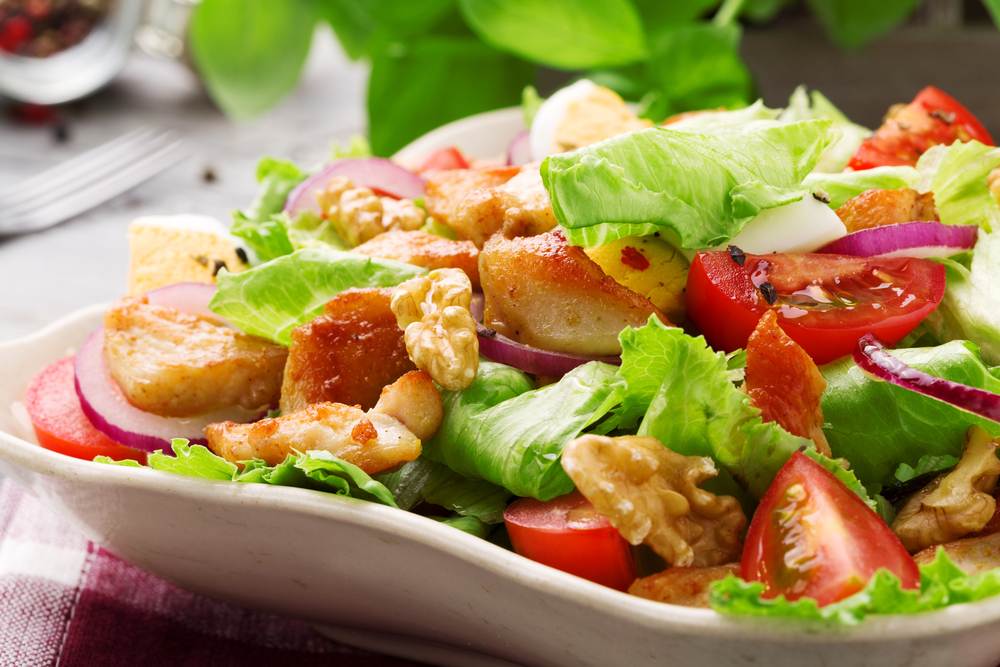 Required Ingredients:
1 Big boneless chicken breast
Salt to taste
Pepper to season
1 tbsp olive oil
1 tsp vinegar
1 tsp dried thyme
1/2 cup croutons
1/2 tsp dried thyme
1/2 tsp red chili flakes
3 tbsp light mayonnaise
1 tbsp ginger garlic crushed
3 tbsp thick low-fat yogurt
2 tsp lime juice
1 tbsp mustard paste/sauce
2 tsp Worcestershire sauce
Some fresh cilantro
1/4 cup dry parmesan cheese
Some toasted walnuts and almonds
One medium onion chopped
1/4 cup chopped celery
6-8 cherry tomatoes halved
Two medium lettuces chopped
How to Make The Best Chicken Salad Recipe?
In the first step, take a chicken breast and marinate it with the help of salt, ginger garlic paste, paper, olive oil, fresh thyme, and vinegar.
Now spread red chili flakes on this mixture and covered all the ingredients equally in chicken breast and marinate it nicely.
Now you can place it on a corner for 20 minutes.
Take the second bowl and add light mayonnaise and thick yogurt, which will help to maintain consistency.
Now add mustard sauce, olive oil, and lemon juice on this mixture. Add Worcestershire sauce and green cilantro in it.
Then add a little salt and mix well with maintaining the consistency of the mix. It's ready so that you can put that on your fridge.
Take the third bowl and put chopped onions, tomatoes, and lettuce. You can add your favorite veggies to it. Seasonal vegetables also can be part of this. Just mix it well and keep it aside.
Take a nonstick pan and heat olive oil and put your chicken breast on that pan and cook it for 3 minutes for each side. While it becomes in the golden brown color, you can remove it and let it cool down a bit then cut into medium pieces.
Add your chicken pieces on the vegetable's bowl and then take the second bowl and mix all the ingredients smoothly.
Add Almonds, walnuts, croutons, and celery on it. Now mix them well.
Now, for additional and mouth-watering touch, you can add Parmesan cheese also on it. Again, mix it, and after brewing, it's ready to serve on a plate.
Hence, the chicken salad recipe is now ready to serve. You can present it in front of everyone after garnishing with fresh coriander.
We are using chicken breast in this chicken salad recipe as chicken breast contents more nutrition than other varieties of chicken. This recipe takes 35-40 minutes to prepare.
It is a very unique and easy step to make chicken salad recipe at home. If your family is looking for a tasty lunch, so it is a perfect dish to serve.
And if your friend and family are looking for morning refreshments, so it also works there too.
This chicken recipe not taking too much time but considering all the ingredients which are making it more exotic and energetic. It's a recipe that is perfect for your children also.
Just make it merely with us.
Pro Tip: I am using here thick yogurt as it gives your salad a perfect consistency rather than regular yogurt. Another vital cooking fact is that cooked chicken gives crunchiness and more taste to your salad, so people eat it with love.
Best Chicken Salad Recipe Ever