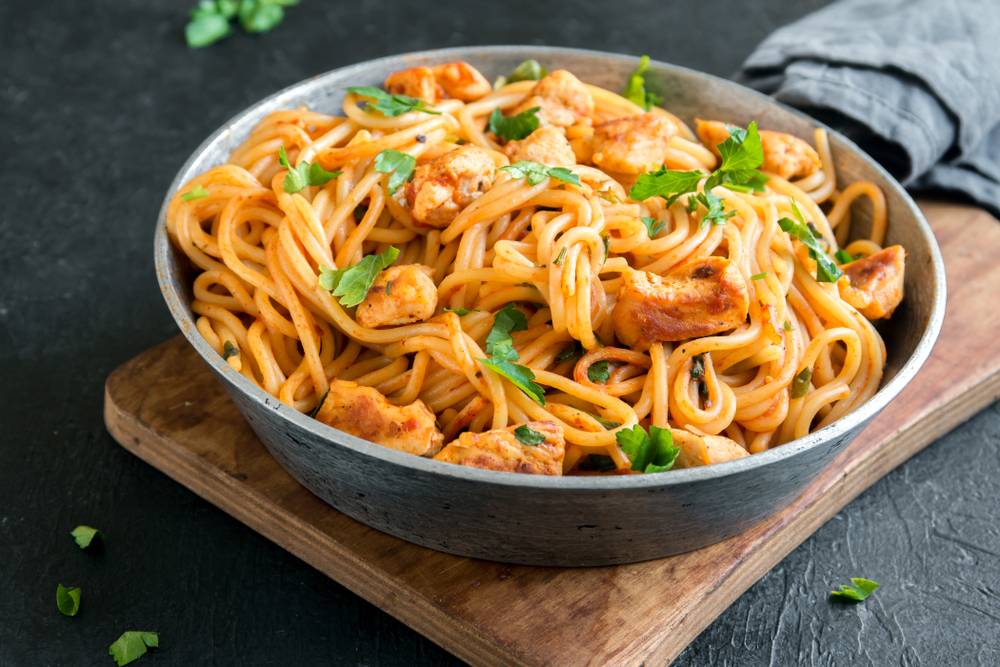 Feeling the craving for having a creamy and cheesy delicacy? You can try out this easy chicken spaghetti recipe in your dinner for the great delight of your taste buds.
For a mouthwatering chicken spaghetti, you do not need to visit the restaurant. With some simple steps, you can serve homemade chicken spaghetti to your near and dear ones.
This unique American casserole is made up of tender noodles and shredded chicken enveloped in a yummy, creamy, and super-delicious cheesy sauce. It can be easily customizable with any of your favorite veggies.
This delicious recipe makes your children not only happy, but also all your family members will love it as it is destined to become a favorite meal.
Chicken spaghetti can be prepared in many ways. Even, you can make it with leftover chicken which is simply unbelievable. To enjoy the delicacy of chicken spaghetti recipe, you don't need to use the canned soups full of preservatives.
In a simple way and within 20 minutes, you can prepare chicken spaghetti recipe and serve on your table to make everyone get amazed. Sneak a peek at the lip-smacking chicken spaghetti recipe – American cuisine.
Chicken spaghetti recipe- An easy and simple way out
Why spending your pennies on exploring the taste of chicken spaghetti? While enjoying the homely comfort, you can taste a scrumptious chicken spaghetti filled with cheese sauce and spiked with tomatoes, parmesan and cheddar.
To get it done quickly, many people use rotisserie chicken. If you use rotisserie chicken, there will be no need to cook it previously. Let's take a look at the ingredients to prepare this dish.
Ingredients ( for 6-8 servings)
1 pound spaghetti2 tablespoons olive oil
2 tablespoons butter
4-6 garlic cloves ( finely minced)
¼ cup all-purpose flour
3 cups low sodium chicken broth
½ cup heavy cream
Fire-roasted tomatoes with juices
1 teaspoon dried parsley or basil
½ teaspoon dried oregano, onion powder, salt, pepper, red pepper flakes
1 and ½ cup of fresh sharp cheddar cheese
½ cup freshly grated parmesan cheese
2 cups shredded rotisserie chicken
How to Cook Chicken Spaghetti?
Here are the steps to follow while looking for a chicken spaghetti recipe.
First, cook the spaghetti until it is soft.
It's time to make a creamy sauce and cook until the sauce gets thickened. After that, add cheese to it. ( Make sure that the pan is not in heat while adding the cheese).
Now, stir well and place the mixture on a well-greased casserole dish.
For the yummy taste, top it with cheese and bake it
Allow the finely baked chicken spaghetti to rest for a few minutes to get firmed up, and your chicken spaghetti is done to serve.
Some handy tips for the perfect chicken spaghetti recipe
The uniqueness of chicken spaghetti sauce lies in its creamy, cheesy texture and fantastic flavor. If it can be done perfectly at home, there will be nothing as good as it. These common ingredients can help you make a delicious spaghetti sauce that will linger on taste buds forever.
Butter – unsalted butter should be added for controlling the taste of salt and a yummy taste.
Olive oil- use best quality olive oil for the original flavor
Garlic cloves- 4-6 garlic cloves can add a unique flavor to the sauce.
All-purpose flour- to thicken the sauce, it is required in the proper quantity.
Low sodium chicken broth- For the added flavor and delicious taste.
Heavy cream- To add a creamy look, consider adding heavy cream to the chicken spaghetti recipe.
Seasoning- season with garlic or dried herbs such as basil, or parsley or onion powder or thyme. The seasonings must be based on your taste.
Diced tomatoes- fire-roasted tomatoes can also be a great addition to it.
Sharp cheddar cheese- use fresh cheddar cheese for the smooth sauce
Parmesan cheese- include it for the creaminess of the sauce. But, make sure that the cheese is not smelly.
So, your chicken spaghetti is ready to serve. For the restaurant-style look, garnish it with freshly grated parmesan cheese and parsley and serve with fresh salad or bread or fresh fruit salad. Now, let's relish.
Easy Chicken Spaghetti Recipe