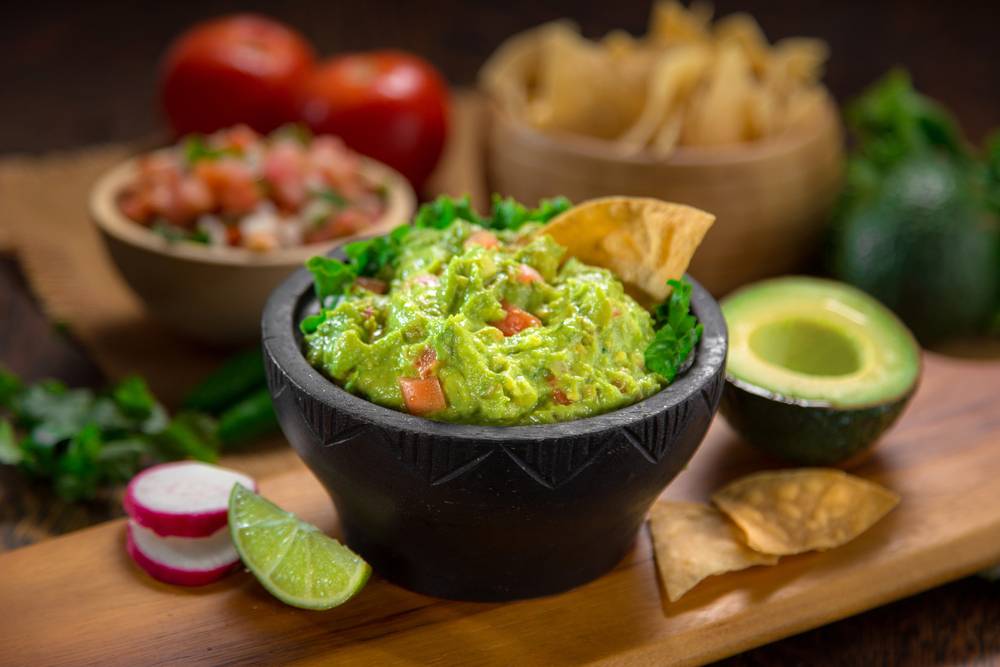 Are you a fan of sauces and spreads? Are you bored of the usual ketchup and mayo, and want something new to dip your pakoras/fries/wafers into? Or are you more health-conscious and want to make your salads more appealing? Learn how to make the best guacamole salsa dip.
Presenting guacamole! A lavish spread made of avocado and herbs which you can use as a dip, salad dressing, or on toast.
Guacamole (pronounced: 'gwaak-uh-mo-lee' or 'gwaak-uh-mo-lay') originated in what is now Mexico, developed by the Aztecs who called it ahuacamolli, which means 'avocado sauce'.
It gained popularity in North America during the 1980s, presumably due to the Mexican immigrants in the US.
Apart from being an important ingredient in Mexican cuisine, guacamole or 'guac' as it is called has fast caught on with Americans who see it as a nutritious and tasty snack option.
If you're looking for an accompaniment to your evening snacks, which is both healthy and delicious, the guacamole recipe is definitely the best bet!
Guacamole recipe is a versatile dish that goes with just about anything, so it will most definitely be liked by everyone in your family.
Kids especially will love this creamy, buttery spread with their toasts and sandwiches.
Ingredient for Guacamole Salsa
To make guacamole, you need:
1 ripe avocado
1 chopped onion
1 chopped green chili
1 crushed garlic
1 chopped tomato
½ tsp Pepper Powder
1 tsp lemon juice
1 tsp chopped coriander leaves
Rock Salt
Guacamole Recipe Tips:
Learn to cut the avocado the right way
Slice your avocado neatly into half using a knife with a broad, sharp blade. Do this with the avocado still in the skin. To remove the avocado seed (or 'pit' as it is called), gently strike it with your knife and twist the knife to extract it out of the fruit. Once the pit is out, you can use a spoon to scoop out the pulp from the skin.
Choose the right avocados
You need to make sure that the avocado still has the stem attached. If the stem has been removed, it is more likely to have brown spots on the inside. Also, the avocado should be firm but slightly yield to pressure.
Use fresh lime
Avoid the temptation to use bottled lime juice as it just doesn't have the same effect. Freshly squeezed lime juice gives your guacamole that extra punch it needs. There is no other substitute to fresh lime juice. Add some freshly chopped dhania (coriander leaves) and there's nothing like it.
Soft and ripe
You need soft and ripe avocados. If the avocados you have are firm, leave them at room temperature until they're soft. When the bulbous end of the avocado yields to pressure, it is ready to be used.
Don't overmix
Your guacamole shouldn't be completely smooth in texture. A little bit of variation adds to the flavor. Make sure you leave some chunks of avocado and don't mash it fully.
Season well
Don't cut down on the seasoning. Use liberal amounts of salt, pepper, and lime juice. Add more than what you would normally add. You can even use different kinds of seasoning like oregano and rosemary. You want your guac to taste punchy and flavourful, not boring and bland. Live dangerously and spice it up a little!
Prevent browning
Your guacamole will turn brown due to oxidization. To keep it looking fresh and green, add lime juice and cover the guac with plastic wrap directly on its surface. Keep it cold even when you serve.
How to Prepare Guacamole Salsa?
Step -1
Slice the avocado in half and remove the pit and pulp. Mash the pulp with a spoon properly until you reach a thick, slightly chunky consistency.
Step-2
Mix well with chopped onion, green chili, coriander powder, lime juice, pepper, and rock salt. You can customize the guacamole recipe by adding any fruits or nuts of your choice. You can even go off the beaten track and add some boiled meat if you're a non-vegetarian.
Step -3
After mixing, garnish the concoction with chopped tomato. Add some more lime juice and cover with a plastic wrap. Refrigerate it for 20-30 Mins
Final Step
Your amazing guacamole is ready. You can now serve it as a sauce, on a salad, or in sandwiches, wraps, and toast.
Liked this recipe? Follow us for more yummy recipes in your inbox. If you liked guacamole salsa recipe, you'd also like "Pizza Dough Recipe for the Tastiest Homemade Pizzas".
How To Make Guacamole Salsa Dip