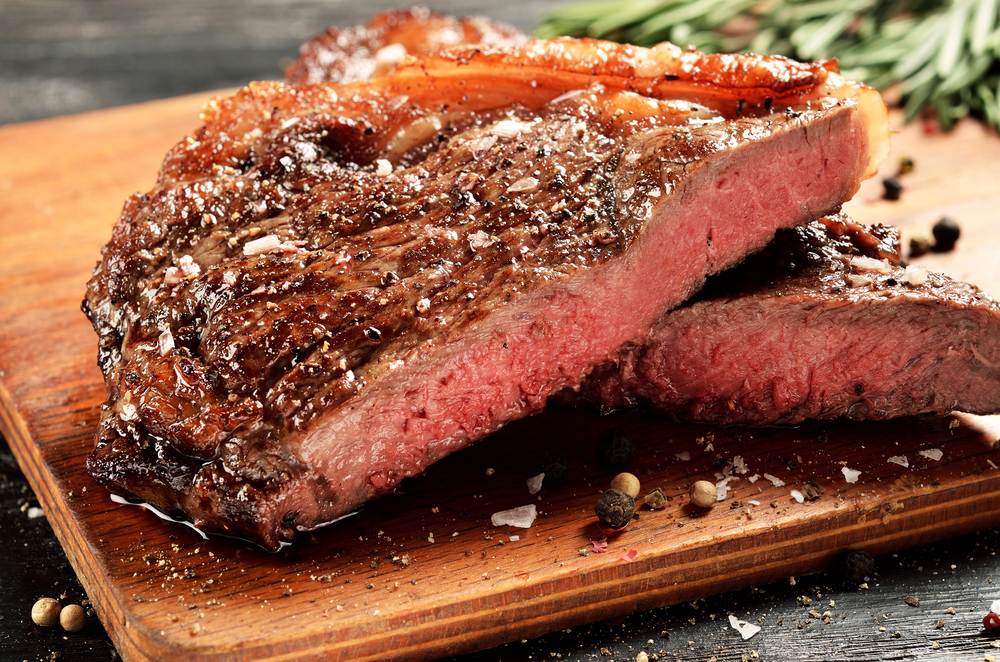 Oven-roasted strip steak is undoubtedly a delicious dish with a taste that lingers around your taste buds. When the delectable taste accompanies with a great flavor, it simply turns into a family-favorite recipe. But, is it possible to make the strip steaks as the steakhouses do? The answer is yes.
You need to follow proper instructions every time to cook strip steaks with the same taste and flavor. New York Strip steak oven recipe is a simple meat recipe made of a special cut of beef from the loin. It's popularly known as New York Strip Steak or strip loin or top loin steak.
The oven roasted strip steaks can be prepared quickly with some simple seasonings. The succulent taste will make you feel the worth of all your effort.
If you are looking for an easy New York strip steak oven recipe, you can follow the instructions mentioned here, as it is the easiest possible way to cook strip steak.
Though you need to buy the pieces of beef carefully, yet the special steak dinner will make all you get appreciation from all. Whether it's a simple weeknight dinner or a weekend special dinner, juicy and flavorful strip steak can make everyone enjoy the food with heart's content.
The Speciality of New York Strip Steak Oven Recipe
The specialty itself lies in the cut of the beef. It's a cut from a specific area of cow that is below the backbone. That's why New York Strip Steaks are so tender, juicy, bean and boneless.
Also, a roasted steak is full of protein, fat, iron, zinc and overall, a good amount of Calories. When it cooks at home with fresh ingredients, it becomes simply incomparable.
The Thickness Required for New York Strip Steak Oven Recipe
The recipe of New York Strip Steak is quite easy but the most important part is to make the right cut. Too much thickness can ruin the taste of this dish. Though 1-inch thickness is regarded as perfect, yet for quick-cooking, ½ inch thickness seems to be quite perfect. The thicker it will be, the more time you will need to cook it.
How to Make Best New York Strip Steak Oven Recipe?
New York strip steak recipe is nothing but a simple one. But, its delicious taste deserves something more.
This recipe can be served in the special occasions to make your guests relish a fantastic taste. Add butter to the steaks to enhance its taste and flavor and make it the best strip steak.
Let's take a look at the recipe to cook oven roasted New York strip steak like the best steakhouses.
Ingredients required for preparing New York strip steak
Strip steak ( 2)
Sea salt
Black pepper ( Coarse ground)
Minced garlic ( 2 cloves)
Softened salted butter ( 4tablespoons)
Worcestershire sauce ( 1 teaspoon)
Fresh thyme leaves ( 1 teaspoon) Or dried thyme leaves ( ½ teaspoon)
Steps to Cook New York Oven Strip Steak Recipe
Step 1 – At first, add salt and pepper to the steak and keep in the refrigerator. It's better to marinate the steaks overnight to make it taste better. While keeping the steaks in the refrigerator, don't need to cover the steaks with lid.
Step 2 – Remove the steaks from the refrigerator 30 minutes before cooking it. Within 30 minutes, the steaks will come to room temperature.
Step 3 – Take an iron casted pan to cook the steaks. If you find a round grill press, you can use it.
Step 4 – Instead of using a grill pan, you can also use heat grill. Heat the pan for 2 minutes before cooking.
Step 5– Take a small bowl for combining all the spices finely.
Step 6– Then, cover up the strip steaks with the mixture of spices.
Step 7 – Now, place the steaks on the pan and consider cooking it for about 2 minutes. Then flip it carefully. After that, add butter and cook it for 2 minutes. Add garlic to it and again cook it for 30 seconds on medium heat.
Step 8 –  Let the steaks get rest for 5 minutes. Make sure that there is no heat now.
Step 9 – It's the final step when you need to remove the steaks from the pan. Cut it into pieces and serve it.
Some Important Notes for Cooking Best Strip Steaks
For trying out this recipe at home, you need to know the exact temperature on which the steaks should be cooked. If the steaks are too tough to chew, then no one can enjoy its authentic taste. Therefore, the steaks are needed to be cooked at about 425 degrees Fahrenheit. Also, you must consider cooking both sides of the steaks for the great taste. Otherwise, it will remain uncooked inside.
'Maillard' effect is also an important step that can make the New York oven strip steaks taste same as the steakhouses serve. Therefore, season the perfectly cut steaks first with salt and pepper. This special seasoning will make an exterior crust and you can explore the authentic taste of strip steaks.
Don't cut the strip steaks too soon because it will cause all the juices come out on the cutting board. Slice it up after sometime for the perfect texture and fantastic taste.
So, let's try out New York oven strip steak oven recipe at your home and make your family members fall in love with a popular delicacy belong to American cuisine. You can also try other recipes and try to make at your home.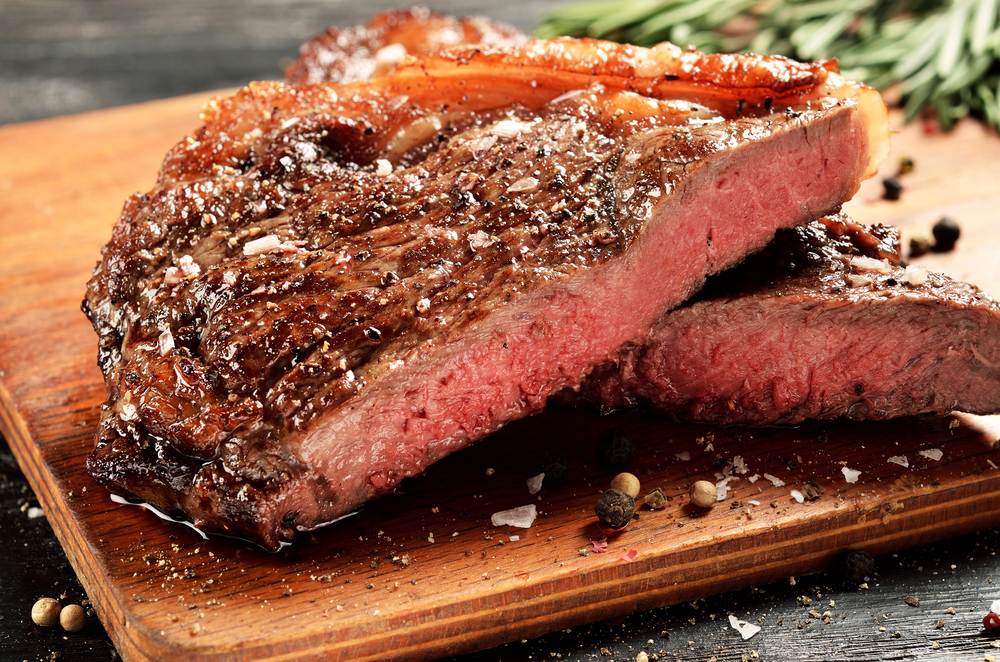 New York Strip Steak Oven Recipe
If you are looking for an easy New York strip steak oven recipe, you can follow the instructions mentioned here, as it is the easiest possible way to cook strip steak
Course
Appetizer, Main Course
Ingredients
Strip steak ( 2)

Sea salt

Black pepper ( Coarse ground)

Minced garlic ( 2 cloves)

Softened salted butter ( 4tablespoons)

Worcestershire sauce ( 1 teaspoon)

Fresh thyme leaves ( 1 teaspoon) Or dried thyme leaves ( ½ teaspoon)
Instructions
At first, add salt and pepper to the steak and keep in the refrigerator. It's better to marinate the steaks over night to make it taste better. While keeping the steaks in the refrigerator, don't need to cover the steaks with lid

Remove the steaks from the refrigerator 30 minutes before cooking it. Within 30 minutes, the steaks will come to room temperature

Take an iron casted pan to cook the steaks. If you find a round grill press, you can use it

Instead of using a grill pan, you can also use heat grill. Heat the pan for 2 minutes before cooking

Take a small bowl for combining all the spices finely

Then, cover up the strip steaks with the mixture of spices

Now, place the steaks on the pan and consider cooking it for about 2 minutes. Then flip it carefully

After that, add butter and cook it for 2 minutes. Add garlic to it and again cook it for 30 seconds on medium heat

 Let the steaks get rest for 5 minutes. Make sure that there is no heat now

It's the final step when you need to remove the steaks from the pan. Cut it into pieces and serve it
Keyword
new york strip steak oven
New York Strip Steak Oven Recipe (2021)