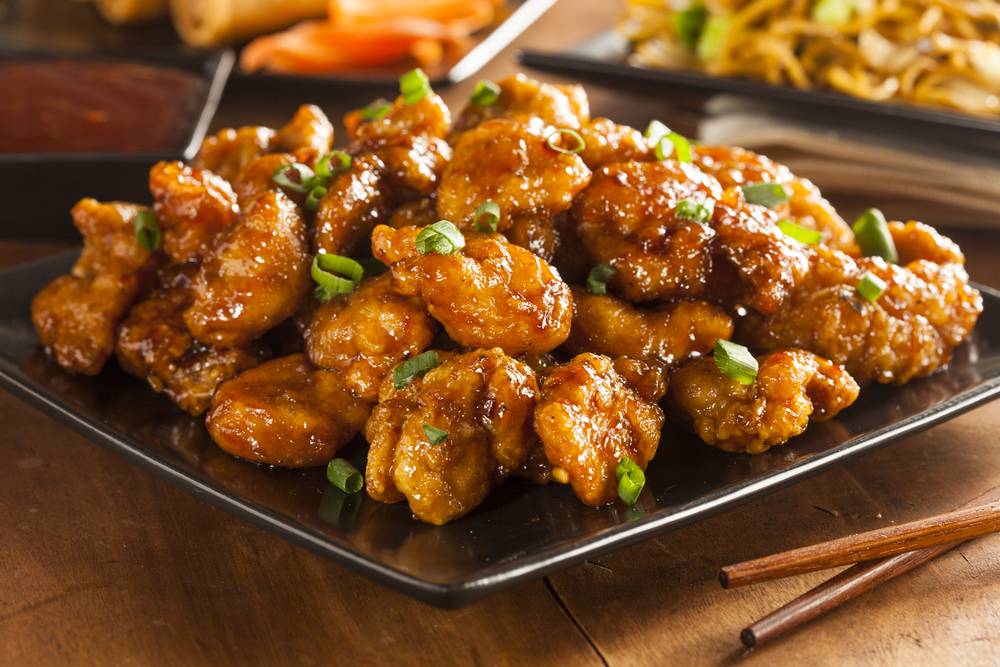 Serving mouth-watering delicacies to near and dear ones is great fun and pleasure for us. It's something that comes with lots of excitement.
Chinese cuisine is one of our most favorite culinary styles that makes our weekend dinner more special.
That's why today I decided to try out the authentic & tasty orange chicken recipe at home.
There are a few steps involved in it but at the end of all hard effort, it's an achievement to see all our members heartily enjoying the delicacy of a simple yet delicious recipe.
Orange chicken, made of boneless succulent chicken pieces, tastes very delicious. The tender, juicy yet crispy chicken pieces when smothered in an authentic Chinese orange sauce, creates a taste that will make you lick your fingers.
Before preparing the dish, I have done some research on how to make orange chicken easily with the same superb taste.
The name itself suggests that orange juice is one of the important ingredients of this dish. The orange chicken recipe today I am going to share will surely make you relish the taste of home.
The sweet and tangy sauce when touch the taste buds will simply be divine. Let's explore the orange chicken recipe.
How do you make orange chicken from scratch?
The orange chicken recipe combines chicken pieces in a sweet, flavored and spicy sauce.
Do you want to know how to prepare the perfectly fried crispy chicken along with a tongue titillating sauce? Make a quick peep at the steps.
Step 1 – Dip the boneless chicken breasts in the mixture of whisked eggs and corn-starch. Coat them evenly and fry in oil until it gets the light golden color.
Step 2– For the sauce, mix some ingredients. The ingredients include orange juice, sugar, vinegar, soy sauce, garlic, ginger, and red chili flakes. Put them in a small pan and let it get cooked over the medium-high heat. After some time, add water mixed with corn-starch to thicken the gravy.
Step 3 – A few minutes to wait for a delicious orange chicken! Toss the fried chicken pieces with the orange sauce and serve hot. For a great look, top it with freshly grated orange zest and green onions.
Tasty Orange Chicken Recipe
Ingredients
Chicken- boneless chicken breasts cut into small pieces ( 4 chicken breasts)
3 whisked eggs
1/3 cup corn-starch
1/3 cup flour
Cooking oil for frying
Orange chicken sauce
Ingredients
1 cup orange juice ( fresh juice for the best taste and flavor)
½ cup sugar
2 full tablespoons of Rice vinegar or white vinegar
2 tablespoons of soy sauce
¼ teaspoon finely and freshly chopped ginger
¼ teaspoon garlic powder or you can use 2 garlic cloves ( finely chopped)
½ teaspoon red chili flakes
Fresh orange zest from 1 orange
1 tablespoon corn-starch for thickening the gravy
Green onions for garnishing
Let's take a look at the instruction – For the crispy fried chicken
Mix flour and cornstarch together along with a pinch of salt
Whisk eggs in a different dish
First dip the chicken breast pieces in the mixture of whisked eggs and then in the mixture of flour and cornstarch
Place the chicken pieces on a plate
Put 2-3 inches of oil in a pan for deep frying. Make sure that the oil is hot ( you can use a thermometer to make it confirmed that the oil reaches 350-degree temperature)
Fry the chicken pieces for 2-3 minutes and let it become golden brown in color. ( Keep the flame medium)
Use a paper towel to soak the excess oil
The delicious orange sauce for an authentic orange chicken recipe
In a pan, add the orange juice, sugar, vinegar, soy sauce, garlic, ginger, red chili flakes and heat for 2-3 minutes ( don't overcook it)
Take a small bowl, whisk 1 tablespoon of cornstarch with 2 tablespoons of water to make a paste.
Add it to the orange sauce and continue cooking for thickening the gravy.
Once the gravy is thickened, remove it from heat and let it cool.
Add fresh orange zest for the mind-blowing aroma
➔   ( Follow the instructions properly for the great taste and the aroma that can make it better than restaurant)
Enjoy the taste of orange chicken recipe with Veggie Brown Rice or Orange flavored Rice. Let's relish the orange chicken recipe at the comfort of your own home and make your family members surprise with the magic of your culinary skill.
Orange Chicken Recipe – Easy & Tasty