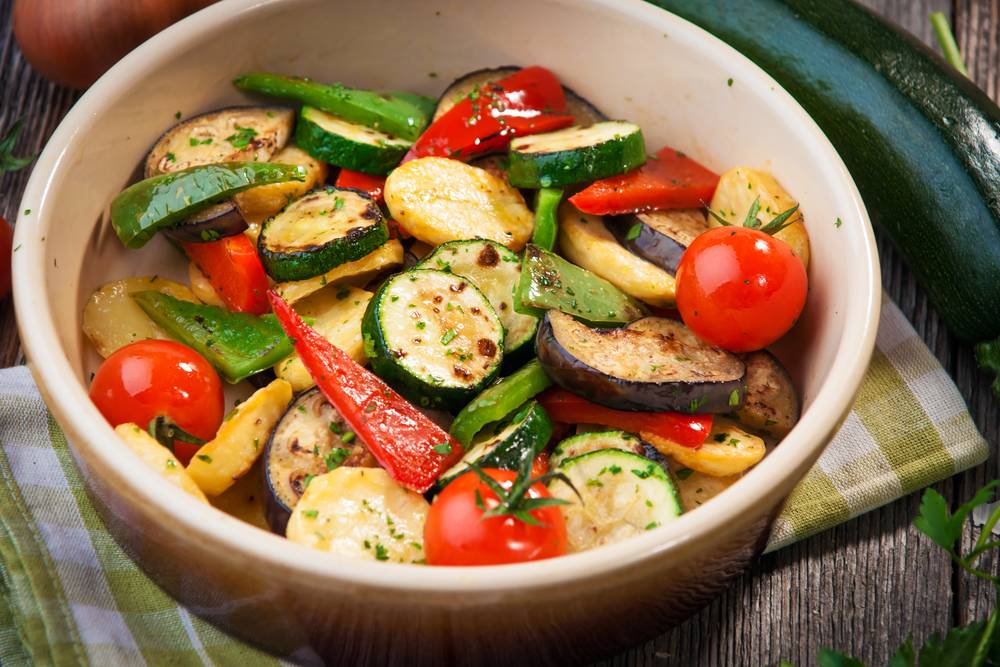 Roasted vegetable recipe is made of deliciously seasoned veggies to serve alongside a heavy non- veg dish. It's not only a healthy and nutrition enriched dish but also a great way to prepare to seasonal vegetables.
Usually, it's quite difficult for moms to make their children eat vegetables. This delicious recipe can be a way out for you.
Roasted vegetables recipe can help you make your family members surprise with the amazing taste and delicious flavor of freshly cooked vegetables.
Are Roasted Vegetable Healthy?
It's not all about cooking multiple seasonal vegetables but also adding a perfect texture and classy look to it. Whether it's dinner or lunch, this delectable dish can be served anytime to enjoy a healthy and tasty platter.
If you feel the craving to have something healthy, just try it out. Anyway, how to cook it perfectly? Let's take a quick look at the recipe.
Best Roasted Vegetables Recipe-  Easiest way to prepare
Whether you are an expert chef or an inexperienced cook, this roasted vegetables recipe is appropriate for all. In fact, to prepare perfectly roasted veggies, you don't need to be a professional cook.
Follow the recipe as it is mentioned here and enjoy a healthy delicacy with all your near and dear ones.
Ingredients for Roasted vegetables recipe
As the name suggests, this recipe is an amalgamation of multiple vegetables. The abundance of veggies makes this recipe look colorful and attractive as well. The ingredients that are used are almost always available in your kitchen so you don't need to rush to the market while thinking to prepare it. Let's know the ingredients:
Vegetables– To make this recipe full of essential nutrients, use cherry tomatoes, bell peppers, carrot, zucchini, broccoli, red onion, garlic, baby red potatoes, sweet potatoes, green beans and yellow squash.
Salt and pepper
Olive oil
Herbs ( oregano, thyme, basil)
Fresh herbs for a garnishing look.
Ingredients with quantity ( For 6-8 servings as a side dish)
3 medium-sized carrots cut into small ( 1-1/2 inch chunks)
1 red onion cut into 1 inch pieces
1 pound baby potato cut into quartered or halved size.
Dried oregano ( ¾ tablespoon)
Dried thyme ( 1 teaspoon)
Dried basil ( 1 teaspoon)
Pepper and salt ( according to taste)
Fresh thyme and parsley for garnishing
Steps for Cooking Roasted Vegetables Recipe
Step – 1
At first, preheat the oven ( around 400 degrees). Peel all the vegetables and cut them into proper shape as mentioned before.
Step – 2
For perfect cooking, place all the vegetables evenly in one layer on a baking sheet. This helps the veggies to get cooked perfectly and you can enjoy the great taste at the end.
Step – 3
Add the herbs ( oregano, thyme, and basil in the above mentioned quantity). Consider adding salt and pepper as per your taste. Now, pour oil and toss well to get everything mixed properly.
Step – 4
Bake for about 35-40 minutes by placing all the veggies on the middle rack of the oven. However, don't forget to flip the vegetables after 20 minutes.
Take out from the oven and serve hot to relish it heartily.
What temperature is best for roasting vegetables?
Don't forget to preheat the oven before started baking.
Best temperature for roasting vegetables is between ( 400°F – 450°F )
Use a dark colored baking sheet
Always spread the veggies evenly on the baking sheet.
Use the herbs in proper quantity
Toss all the veggies in the halfway to avoid getting it burnt on one side.
So, try it out today to serve something full of nutritional values and to turn simple vegetables into a tasty, and mouthwatering dish.
For, the great taste, serve it with Chicken Parmesan, or Salmon with Garlic Lemon Butter Sauce, or Chicken with Garlic Herb Butter Sauce. You can also try other Best Recipes from our blog section.
Best Roasted Vegetables Recipe