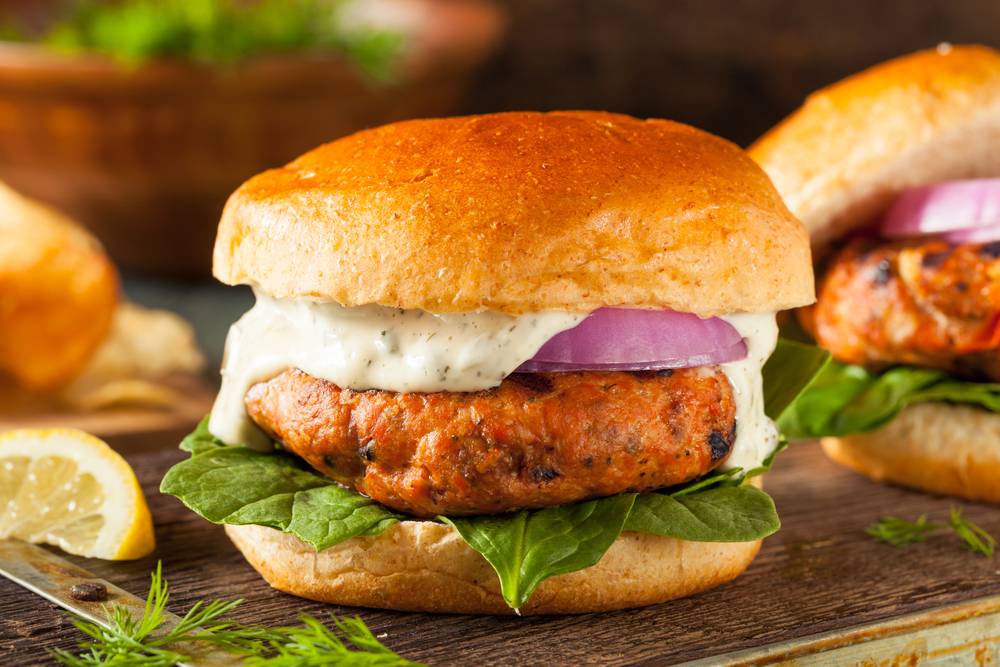 Planning to cook a delicious dinner tonight? How good would it be to enjoy moist, flavorful, and chunky textured salmon burger? Definitely it would be amazing. If this delicious recipe can be cooked at own home, the happiness will get doubled up. Home cooked food is always considered to be the best one as it is made of fresh ingredients and in hygienic way. Salmon burger recipe can also be cooked at home with the same taste and flavor that will linger around your nose for the whole day.
Are Salmon Burgers Healthy?
Apart from the delicious taste, salmon burger is also full of nutrients. As salmon is a good source of protein, this dish is a storehouse of proteins. For the non vegetarians who don't prefer meat, salmon burger is a perfect dish for them. It's perhaps the best alternative to beef burger. So, are you a fish lover? Want to try out salmon burger recipe at home? Then, let's prepare protein packed and nutrient-dense salmon burger.  For sure, it will be appreciated by all.
What makes salmon burger so favorite to all?
We have already said that salmon burger is a great alternative to beef burger. If you want to have this protein enriched fish with lip-smacking taste, salmon burger recipe will be the excellent option for you. The salmon patties with delectable cheesy topping make it a family favorite recipe. However, different types of topping can be added to it to enhance the taste and the look of the burgers. Also a buttery brioche bun can be served with it which complements its taste. Let's jump at the below passages to check the list of ingredients for trying out salmon burger recipe at home.
Ingredients required for salmon burger recipe
Mayonnaise ( 3/4 cup – 180 ml)
Lemon juice (  4 teaspoons)
Chopped capers ( 4 teaspoons)
Finely chopped garlic ( 1 small clove)
Finely chopped fresh skinless salmon ( 675g)
Chopped green onions ( 2)
Breadcrumbs ( 1/3 cup)
Lightly beaten egg ( 1)
Chopped parsley ( 2 tablespoons)
Lemon juice ( 2 teaspoons) for the patties
Dry mustard ( 1 teaspoon)
Mayonnaise ( 2 tablespoons) for patties
Lettuce leaves ( 6)
Hamburger buns ( 6)
Thinly sliced English cucumber ( 1)
Salt
Ground black pepper
Vegetable oil
So, these are the ingredients that you need for salmon burger recipe. Now, look at the steps to cook salmon burger. The recipe that we are sharing here is the quickest and easiest version. So, you can try it out without getting worried. If you follow the ingredients and instructions properly, you will definitely end up with success.
How do you make salmon burgers from scratch?
Step 1 – Mix mayonnaise (3/4 cup), lemon juice ( 4tsp), chopped capers (4 tsp) and chopped garlic together. Keep it aside. It's better to keep it in the refrigerator until serving.
Step 2 – Now, it's the step to prepare the salmon patties. Take a bowl to combine salmon, chopped onions, breadcrumbs, egg, parsley, mayonnaise ( 2 tablespoons), lemon juice ( 2 tsp), and dry mustard together. Mix all the ingredients until it becomes smooth.
If required you can add breadcrumbs in the mixture to avoid extreme softness. After that consider seasoning it with salt and pepper. When everything gets mixed up properly, shape the dough into 6 patties.
Step 3 – Preheat the grills. Also, set the burners to high flame and grease the grates with oil.
Step 4 – Grill the patties on medium heat for 3 to 4 minutes. Carefully grill each side so that the fish gets properly cooked and you can enjoy the authentic taste.
Step 5 – Now, toast the buns and spread mayonnaise on the inner side of the buns. After that, place fresh and clean lettuce leaves on the bottom half of the toasted buns. Now, garnish it with sliced English Cucumber and let it get covered up with other half portion of the bun.
Ultimately, salmon burger is ready to serve.
Tips to follow for cooking salmon burger recipe
Don't forget to preheat the oven before cooking. Try to preheat to approximately 425 degrees Fahrenheit.
While baking the patties, let it get brown colored. The golden brown color represents that the salmon is properly cooked.
You can serve the burgers with baked potato fries ( sweet potato).
Never overcook the burger as it will ruin the authentic taste of the dish.
Don't turning the burgers continuously. Cook each side for at least 2-3 minutes to avoid the burgers get stuck.
So, prepare a delectable dinner with salmon burger to make all of your family members enjoy the dinner.
Best Salmon Burger Recipe