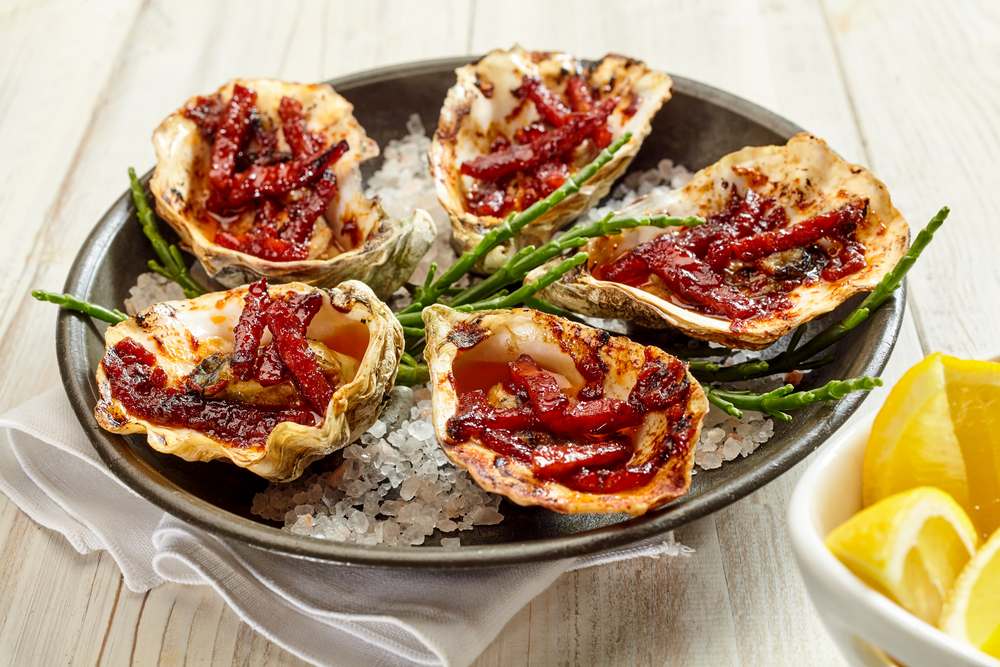 Oyster fresh seafood can be cooked at home easily and enjoy its taste. The Australian Oysters Kilpatrick recipe is a mouth-watering aperitif with freshly shelled oysters, first garnish the oysters with crunchy dried bacon, add butter, Worcestershire sauce and Balsamic vinegar. A variety of delicious dishes can be formed with oysters even by adding creamy cheese as toppings.
The name Oysters Kilpatrick was derived when an Irish fisher, passed through a fatal heart attack while catching and lifting oyster in his boat.
Ingredients
12-24 Shelled Oysters
2 finely chopped smoked Bacon
4 dessert spoon of Balsamic Vinegar
1 to 2 drops of unique odor Tabasco sauce
1 dessert spoon refined oil
2 dessert spoon of Worcestershire Sauce
INSTRUCTIONS
At first collect all the ingredients at a place.
Then heat a small saucepan, within it add 2 dessert spoon of butter, Worcestershire sauce about 2 dessert spoon, 4 dessert spoon of Balsamic vinegar and 2 drops of Tabasco sauce.
Stir until all the ingredients mix properly, remove the saucepan from heat and keep beside.
If the Bacons are skinny then add 1 dessert spoon of refined oil in a frying pan and broil the Bacon until they are crunchy.
Shift the fried bacon into a paper, to drain out the extra oil, and then slice them after cooling.
Put the oven in the top position of the roaster and preheat it.
Outline the baking flat pan with crunched foil to make the mold for shells of oysters that are placed without plunge.
Properly place the shelled oyster in the baking flat pan.
Over each oyster add a spoon of sauce and spread 2 finely chopped fried Bacon and roast for a period of 50 to 60 seconds.
Put off from the roaster and place on a serving tray.
From Where and How to Buy Oysters
There are different varieties of raw shelled Oysters found on the west and east coast near the ocean. People choose the oyster according to the mucous patterns of the oyster.
It is always good to buy fresh oysters from a well-known fish market or seafood department in the grocery shop.
The Oysters are sold fresh, frigid and packed. The raw oyster is bulky and has plenty of water. The dead oysters were loosed here shells and are rejected.
The main cause for removing the shell of the oyster is to eat it raw.
Different delicious dishes can be enjoyed with Oysters under roaster or barbecue. The Oysters Kilpatrick dishes are cooked with half shelled oysters in a grill and garnished with baked bacon which is offered in Australian restaurants.
The total time required for cooking Australian Oyster Kilpatrick recipe is 11 minutes among which preparation time is 10 minutes, cooking time is 1minute and it serves about 2 to 4 people at a time.
The delicious mouth-watering Australian Oysters Kilpatrick recipe is ready to serve.
When Oysters Kilpatrick recipe is served as an aperitif, at least 3 to 4 oysters or even 5 to 6 oysters can be served to each person before serving the chief dish. After preheating the barbecue the Oysters Kilpatrick can be cooked for 3 to 4 minutes, so put foiled oyster molder in grill roaster and can be garnished with sauces.
Instead of foil, a thick layer of rock salt can be used on the pan to properly place the oysters and sustain the shells.
Variety of Recipes
The oysters can be garnished with creamy cheese before baking or grilling during the end. The other delicious recipes are Havarti, mozzarella and parmesan.
The toppings can be added according to our taste. Most of the time the Oysters Kilpatrick is served with minced parsley and a block of lemon instead of the unique aromatic Tabasco sauce.
The other way to add a lovely aroma to the Oysters Kilpatrick recipe is by showering ground black pepper at the upper surface before grilling.
Chopped onions fried with Bacon can be added as topping for the lightly fried Oyster.
To make the recipe more aromatic chopped jalapenos can be added.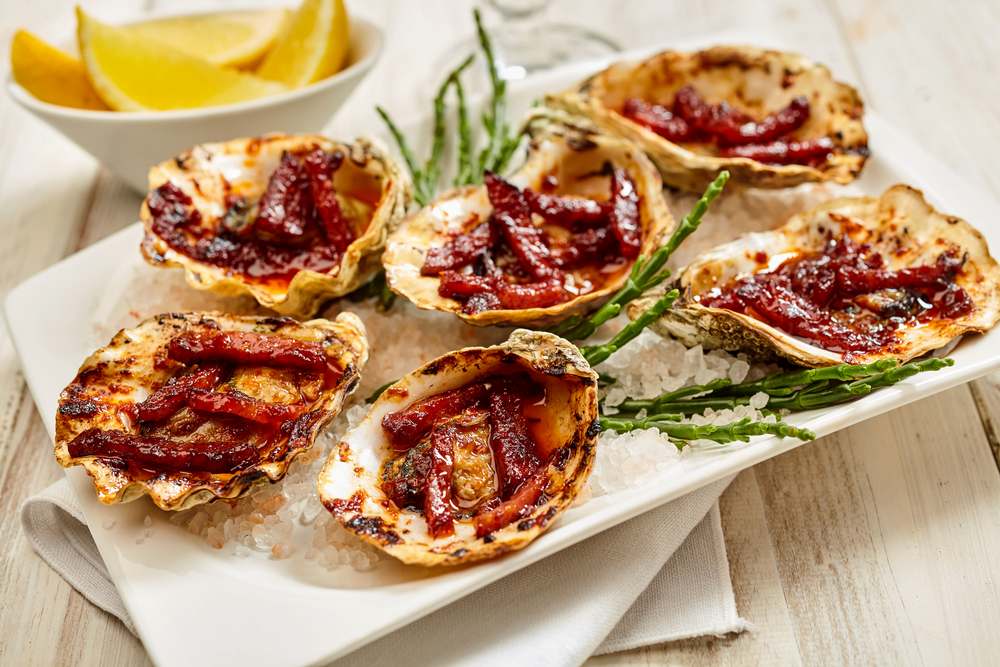 Australian Oysters Kilpatrick Recipe
The Australian Oysters Kilpatrick recipe is a mouth-watering aperitif with freshly shelled oysters, Oyster fresh seafood can be cooked at home easily and enjoy its taste.
Course
Appetizer, Main Course
Ingredients
Instructions
At first collect all the ingredients at a place

Then heat a small saucepan, within it add 2 dessert spoon of butter, Worcestershire sauce about 2 dessert spoon, 4 dessert spoon of Balsamic vinegar and 2 drops of Tabasco sauce

Stir until all the ingredients mix properly, remove the saucepan from heat and keep beside

If the Bacons are skinny then add 1 dessert spoon of refined oil in a frying pan and broil the Bacon until they are crunchy.

Shift the fried bacon into a paper, to drain out the extra oil, and then slice them after cooling

Put the oven in the top position of the roaster and preheat it.

Outline the baking flat pan with crunched foil to make the mold for shells of oysters that are placed without plunge.

Properly place the shelled oyster in the baking flat pan.

Over each oyster add a spoon of sauce and spread 2 finely chopped fried Bacon and roast for a period of 50 to 60 seconds

Put off from the roaster and place on a serving tray
Keyword
australian oysters kilpatrick, oysters kilpatrick recipe
Australian Oysters Kilpatrick Recipe