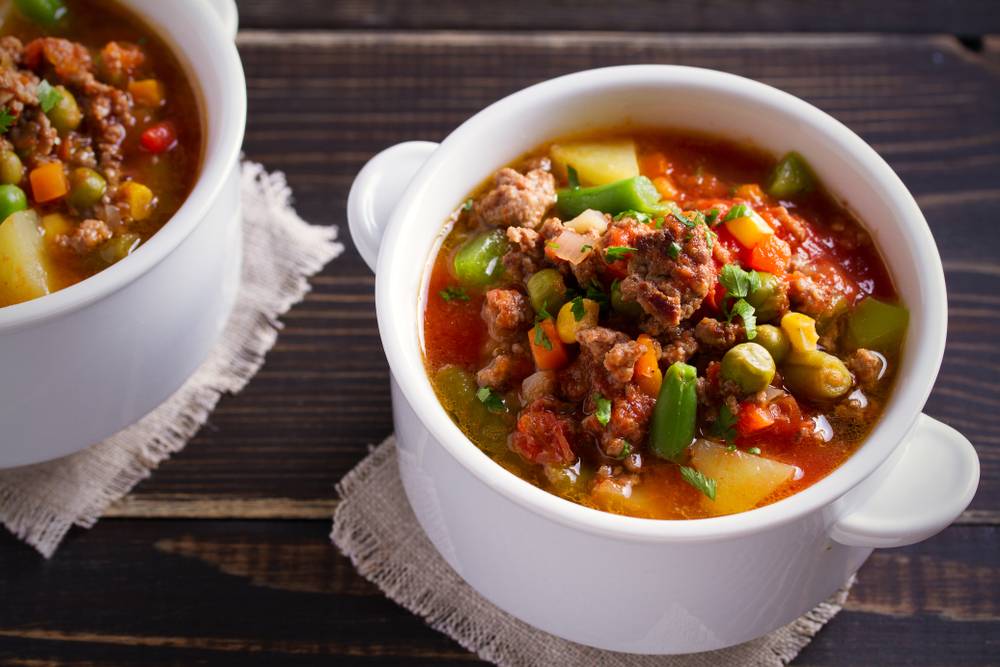 Have you ever tried Hamburger soup at your home? It is undoubtedly a healthy and tasty dish loaded with nutrients. It's not only a healthy meal but also easy to cook. If you are struggling with a busy schedule and don't have much time to spend in the kitchen, this best hamburger soup recipe will be a perfect dish to try.
Though it's not a difficult matter to cook hamburger soup, yet you need to know the hamburger soup recipe perfectly. Here, we are going to share the easiest and most delicious hamburger soup recipe so that you can cook it in your kitchen and make your family members enjoy a delicious soup.
Hamburger soup is made of lean beef, diced ripe tomatoes, vegetables, and sliced potatoes. Hot and tasty soup is simply the best to warm you up in these cold winter days.
As it does not take much time to cook the soup, you can try it out any time. Whether it's lunch or dinner, hamburger soup will make your taste buds fill with great delight every time.
Warm soup, crusty bread and freshly cut salad – a great meal option for all your family members is a quick step away. Let's know how to make it.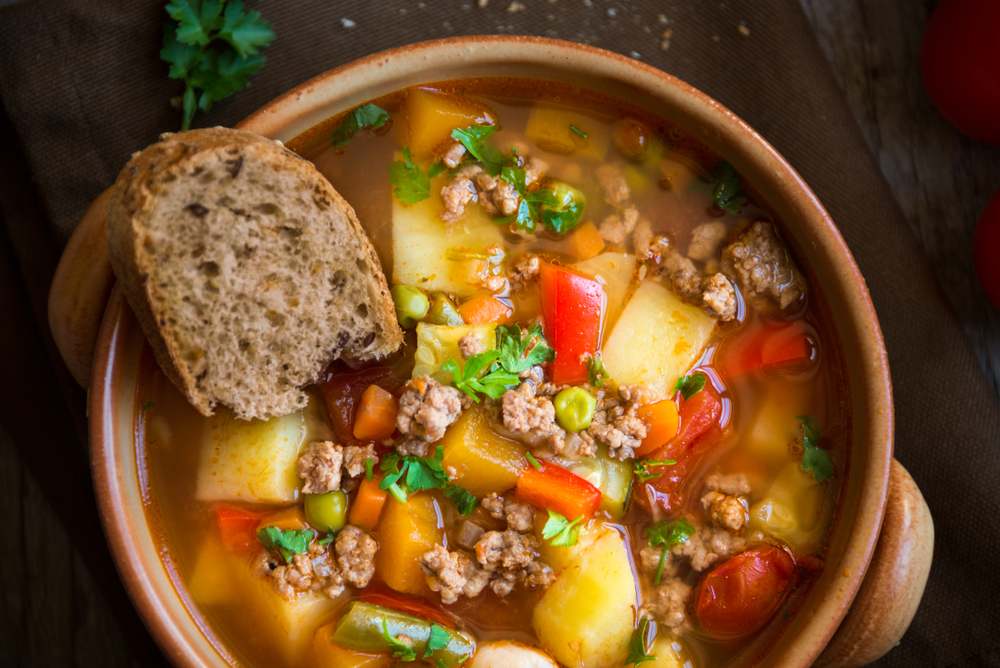 Hamburger Vegetable Soup Recipe
Ingredients:-
With a few simple ingredients, you can prepare a delicious and nutritious hamburger soup. Take a look at the list of ingredients.
1 lb lean beef ( ground)
Diced onions ( 1 onion)
Minced garlic cloves ( 2 cloves)
Peeled and diced medium-sized potatoes ( 2 ) 
Beef broth (½ cup)
Diced tomatoes ( 1 can) with juice
Condensed tomato soup ( 1 can)
Vegetables ( Carrots, Beans, peas, zucchini, celery and different types of seasonal vegetables can be added to it)
Worcestershire Sauce ( 2 teaspoons) 
Salt ( According to taste)
Pepper ( According to taste) 
Bay leaf ( 1)
Italian Seasoning ( 1 teaspoon) 
2 cups of water
Dried thyme ( ½ teaspoon)
Parsley (1 tablespoon)
Instructions to cook Hamburger soup
With very less preparation, you can cook hamburger soup. However, for the best taste, you need to follow the instructions mentioned here.
Step 1 
Take a large soup pot and heat it over medium-high heat. Now, it's time to crumble in the lean ground beef. Stir it continuously until the ground beef gets browned. After that, if any excess grease is there, consider discarding that.
Step 2 
Now, cook all the vegetables ( carrots, celery, beans, zucchini, and other vegetables) with onion.
Step 3 
Pour diced tomatoes, beef broth, water and tomato soup in it. Let all the vegetables get boiled.
Step 4 
Add the Worcestershire sauce in the soup and stir well.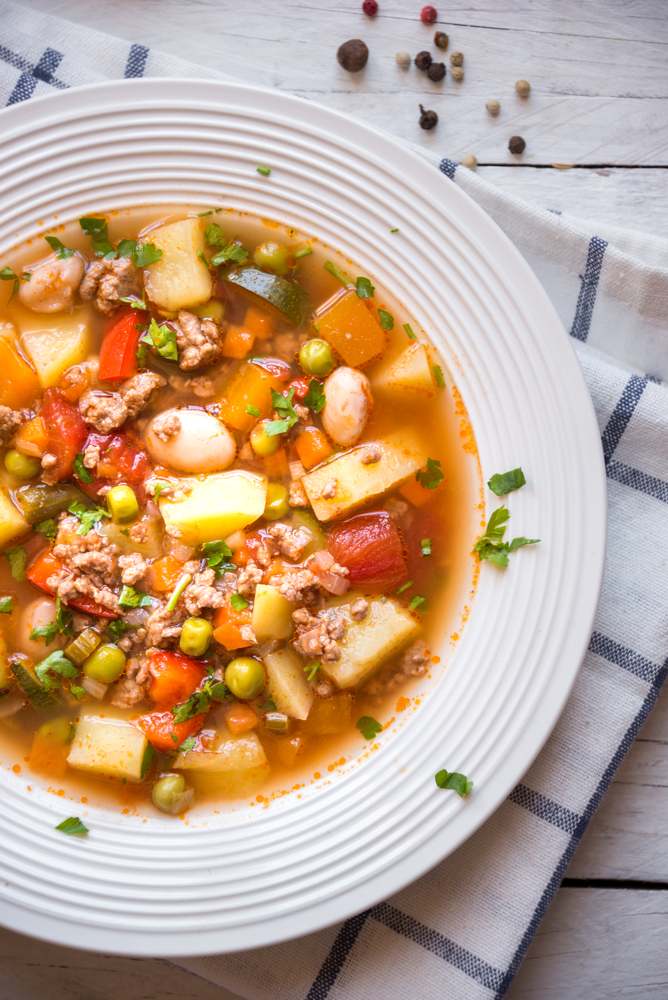 Step 5 
Season with garlic, bay leaf, thyme, parsley and black pepper.
Step 6
Let it get boiled properly over medium heat. While boiling, cover the pot with a lid and simmer for around 2 hours. Stir the soup in between to get everything mixed properly.
Step 7 
The hamburger soup is ready to serve. Serve it hot for enjoying the great taste.
What can be served with Hamburger soup?
For serving a complete meal, you can slice up a loaf of French bread with the soup. As the soup is full of vegetables and meat, it's a wonderful way to have a sumptuous and healthy dish.
Expert tips to follow for preparing soup
Tips 1 – Both regular ground beef and lean ground beef can be used in hamburger soup. If you use regular ground beef, make sure that you are draining the grease.
Tips 2 – Hamburger soup recipe is customizable according to your own taste. You can add more seasonal vegetables in it to make it more nutritious.
Tips 3 – Before serving the soup, don't forget to remove the bay leaf.
Tips 4 – You can cook the soup in the pressure cooker for faster cooking. The taste will not be different from that pot cooked soup.
Tips 5 – The leftover soup can be kept in the refrigerator also.
Tips 6 – You can use tomato ketchup instead of condensed tomato soup.
Tips 7 – You can sprinkle sugar in it if you want.
So, let's relish healthy and tasty hamburger soup. Don't need to spend pennies for paying bills in the restaurant. Cook it on your own and enjoy it at the comfort of your own home. You can also cook hamburger patty at your home by following this hamburger patty recipe.
Best Hamburger Soup Recipe with Vegetables