When you hear 'Indian food,' you think of gravies, spices, and lots of chilies. But that's not what Indian cuisine is all about. It is delicious and undoubtedly growing in popularity in western countries.
To some people, Indian food is all about drinking ten glasses of water after a single meal, while others can't get enough of this diverse cuisine.
The question is: Why are the opinions so radically different? A reason for the starkly contrasting views could be a variance in taste buds.
Yes, some people have more experienced taste buds, whereas others don't. Have you ever tried Indian food before? If yes, you are more likely to adapt to the intense flavor profile of Indian cooking. And, if not, we suggest you do that right away!
Indian food has long been heralded as one of the most labor-intensive cuisines of the world.
But, we'd say that labor is worth it because the flavors and taste of Indian cooking are unmatched. Even famous chefs in the US are experimenting with Indian cuisine to create their trademark fusion food.
Are you getting started with Indian cuisine and need help deciding what to order the next time you go to an Indian restaurant? Don't worry; we have everything you need.
Here are some of the most scrumptious Indian dishes that are making waves around the world.
Most Popular Indian Food in the World
Murg Makhani – Butter Chicken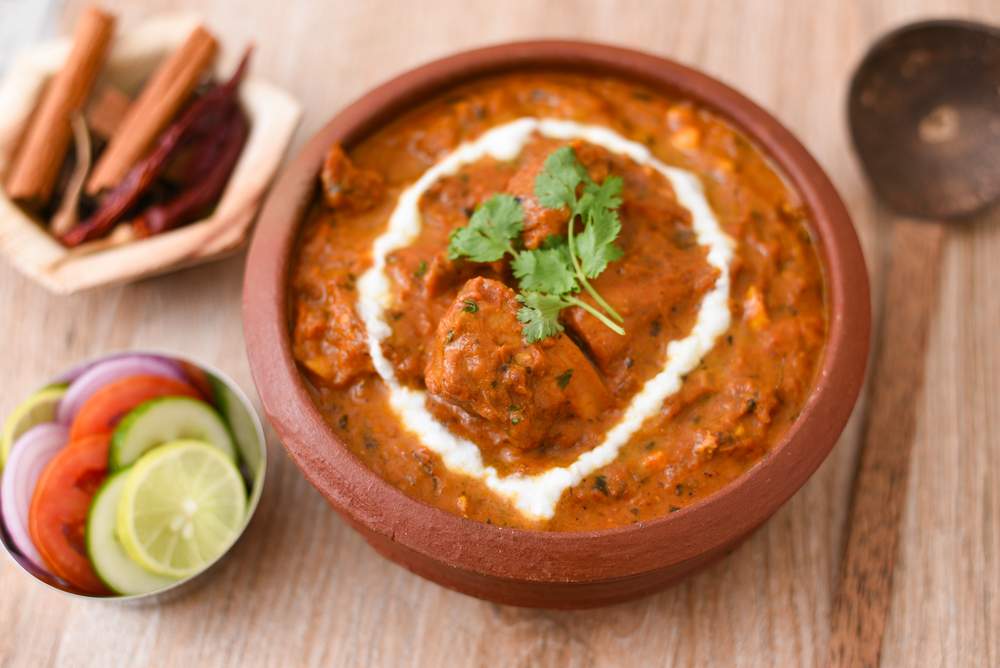 If there were any grandma of Indian cuisine, it would be butter chicken. It is one of the first Indian dishes to find home ground in western countries, and there's a good reason for it: it is mouth-wateringly delicious. The moment you lay eyes on its rich, creamy, red-orange gravy, you'll start drooling all over the floor.
The main ingredients in this dish are chicken, butter, garlic, cashew nuts, tomatoes, olive oil, chicken stock, and ginger. Tender chicken breast is marinated in cayenne pepper, salt, ginger-garlic paste, and yogurt. The result is a juicy, moist, and flavorful chicken that melts in your mouth.
Tandoori Chicken – Roasted chicken with spices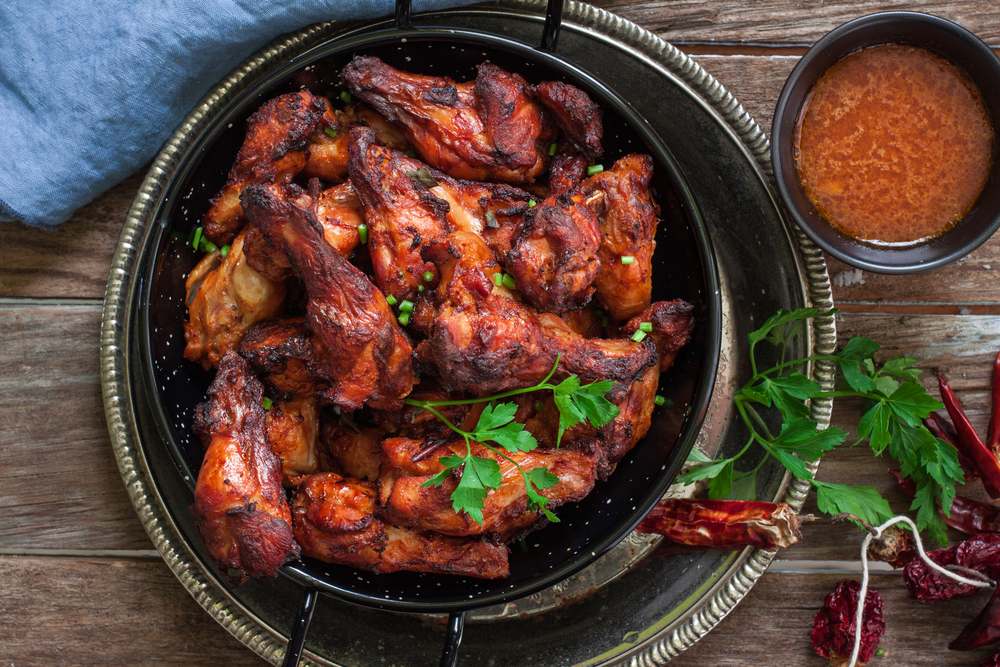 Forget about barbecue brunches, the aroma of freshly roasted tandoori chicken will make you want to sit back and keep eating for the rest of your life. Tandoori chicken is a versatile dish that can be had in both appetizers and main course.
Chicken is marinated in a mix of seasonal spices and creamy yogurt and roasted in a traditional tandoori oven made out of clay. The tandoori oven gives the chicken its smoky flavors and cooks it to tender moistness.
Chicken Tikka Masala – Grilled chicken in rich gravy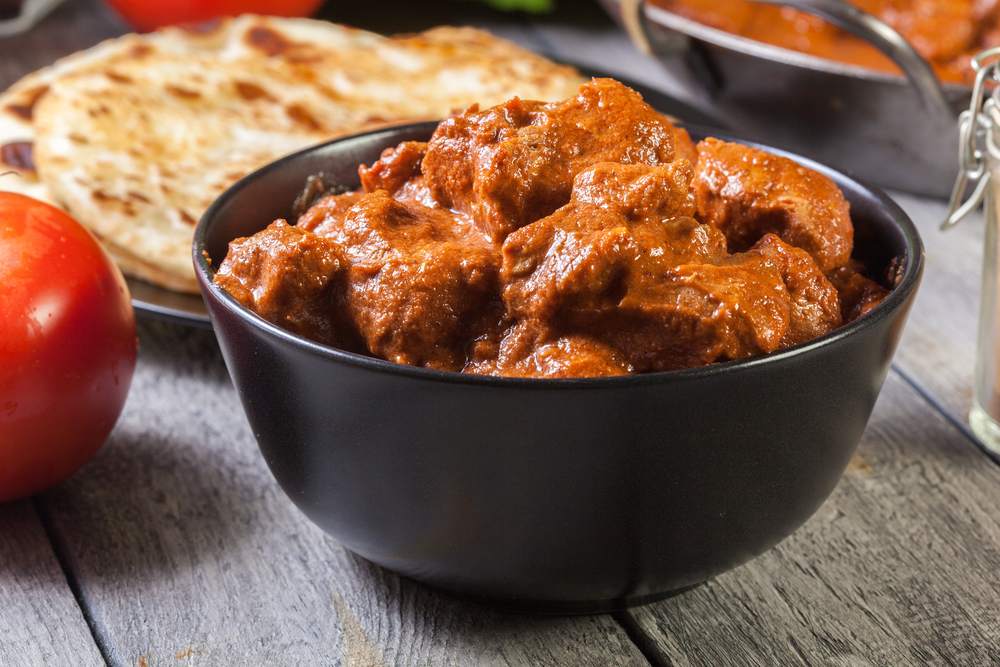 You have to try this dish to understand what we are talking about. Chicken tikka masala will taste like a bite from heaven with its delicate and juicy pieces. The aroma of cardamom, cayenne pepper, garlic, shallots, and cinnamon will make you forget about any other dish.
The secret behind the juicy taste of chicken tikka masala is the long marinating time. It is marinated overnight with a mix of dry and wet spices. The dish tastes best with crispy naan (leavened flatbread) or basmati rice.
Rogan Josh – Red lamb curry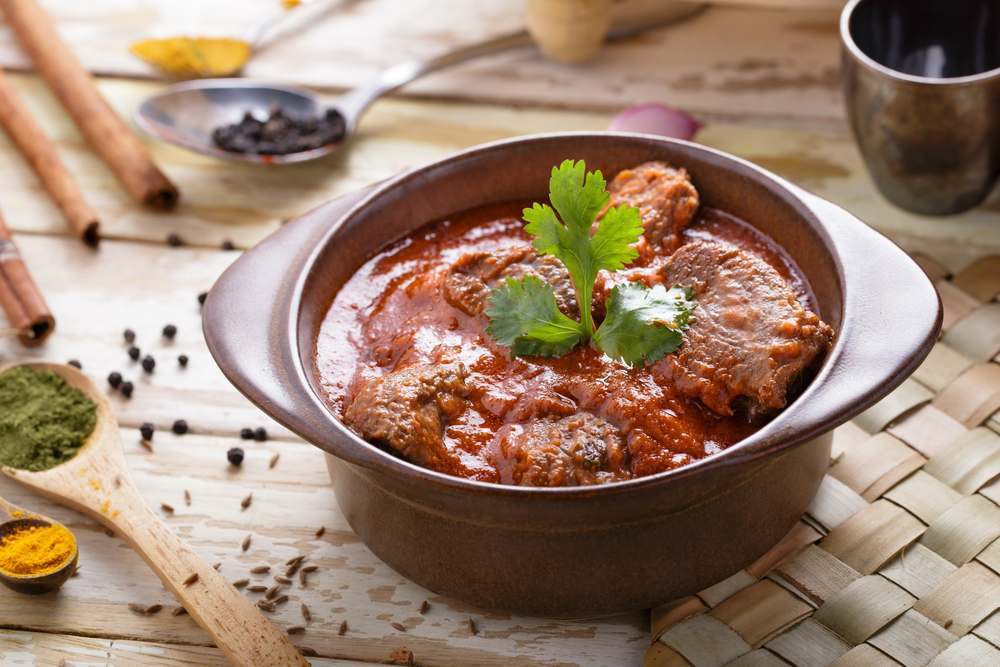 Straight from the north Indian valleys, rogan josh translates to red lamb. It derives its name from the vibrant red color of the gravy that is a result of slow cooking of spices like cardamom, cumin, cinnamon, star anise, cayenne pepper, and a whole long list of other spices. The aroma is heady and will leave you with a strong urge to gorge on the delicious pieces of juicy lamb.
The massive amount of spices can be overwhelming for the taste buds, so; the dish is doused with heavy cream to reduce the spiciness and give it a dash of sweetness. This dish can be served on any occasion.
Chhole Bhature – Chickpea curry with fried Indian bread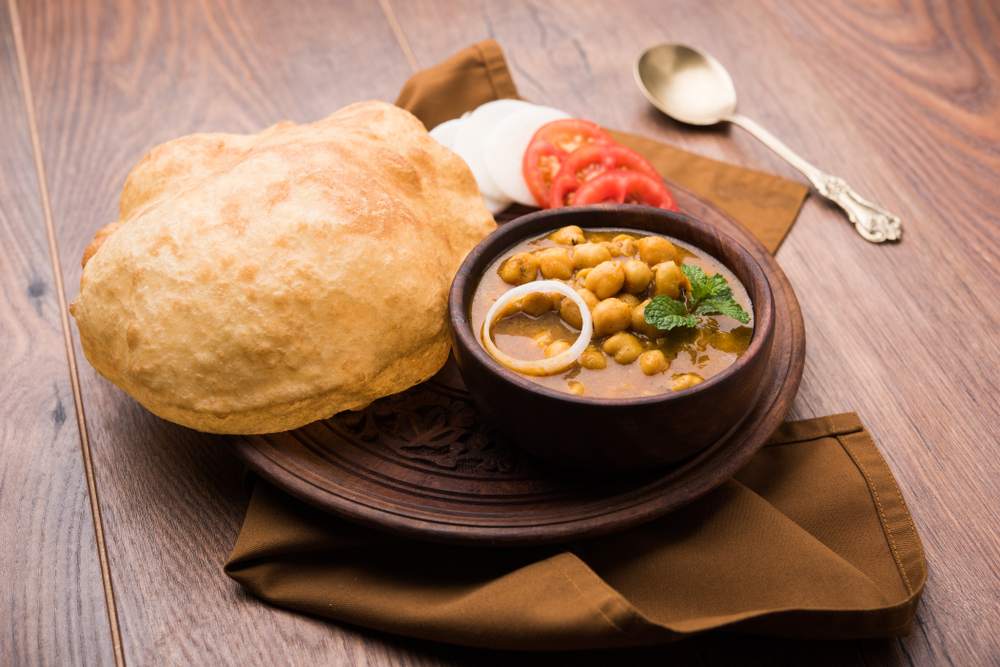 The classic combination of chhole and bhatura is unforgettable. Chhole is made from chickpeas cooked in a simmering mixture of onions, tomatoes, ginger, garlic, and other Indian spices. You will taste the intense flavors of cardamom and cinnamon toned down by juicy tomatoes. Bhatura is a fried Indian leavened bread that has a crispy texture.
In some restaurants, bhatura is in the shape of a bowl, and steaming chickpeas are filled inside the cavity. It is a favorite among food lovers and makes for a great lunch or dinner option.
Palak Paneer – Cottage cheese with seasoned spinach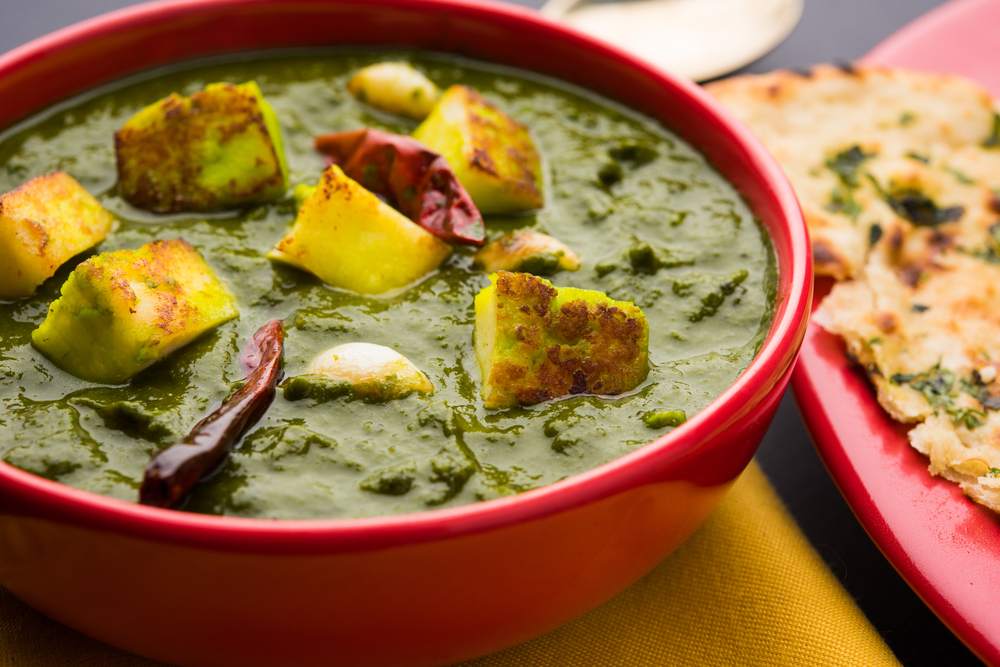 If you aren't a fan of spinach, you need to try this dish. It will bamboozle you with its delicious flavors and make you fall in love with spinach. The recipe is made by boiling spinach and blending it into a smooth paste. Then, it is seasoned with olive oil, tomato puree, roasted spices, and fenugreek leaves ('Methi'). When it is almost cooked, shallow-fried cottage cheese (paneer) is added to the gravy. The dish has a vibrant green color and tastes best with plain naan. Who knew healthy food could taste so good?
Malai Kofta – Fried Cheeseballs in creamy gravy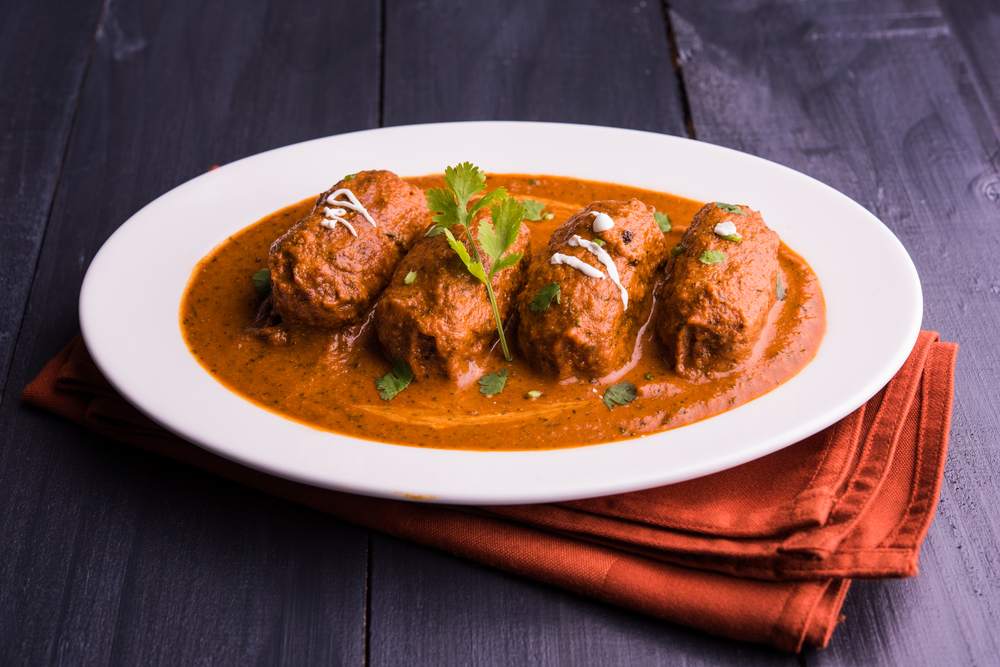 If you've never tasted malai kofta before, you are missing out! It is a delicious dish made from cottage cheese balls. The cheese balls have a host of other ingredients like onion, bell peppers, and Indian spices. The balls are fried until they're golden brown and are added to rich gravy seasoned with a combination of spices and condiments. If you're making this dish at home, add some fenugreek on top to elevate it to another level. Malai kofta goes well with crispy butter naan (leavened Indian flatbread with butter).
 Aloo Paratha – Flatbread stuffed with seasoned potatoes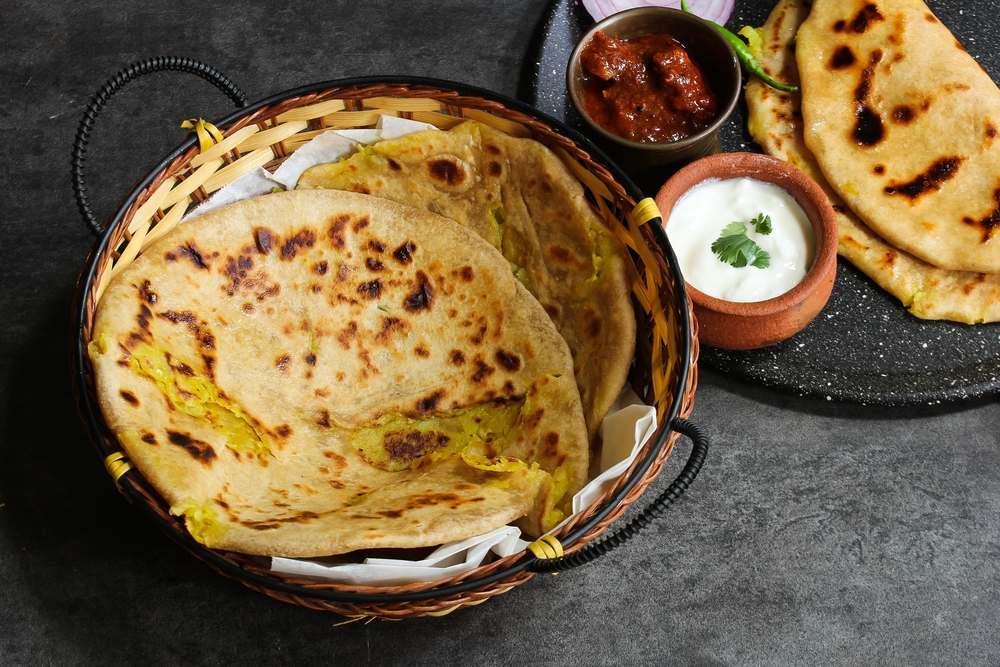 Paratha is a quintessential North Indian staple made from unleavened dough stuffed with a mixture of mashed potatoes and spices. The stuffed dough is flattened using a rolling pin and roasted on a hot iron pan or skillet. Usually, the paratha is cooked in ghee or clarified butter for a richer taste. In some variants of the dish, the parathas are stuffed with cheese or grilled bacon to add new layers.
Traditionally, aloo parathas are served with spiced yogurt. You can also have this dish with mango pickles and freshly chopped onions. If you're feeling like having a cheat day, add a cube of unsalted butter on top of your paratha and feel it melt in your mouth.
Dal Makhani – Lentils in spicy and creamy gravy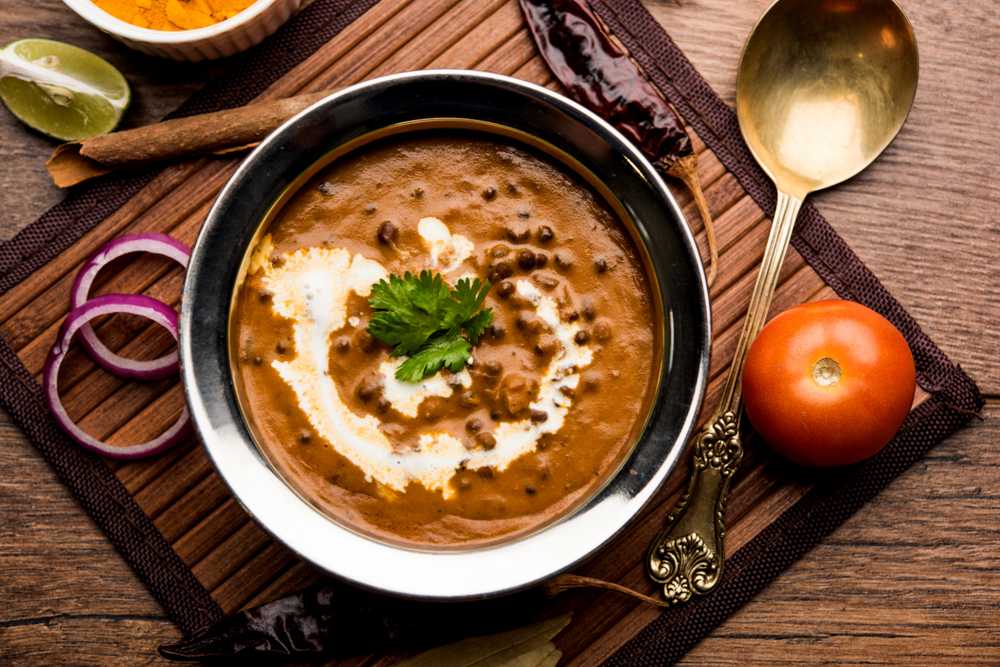 Dal makhani is comfort food at its best! The unique flavors of Indian spices cover the slow-cooked lentils to give you a creamy and rich experience. Whole black lentils are boiled and seasoned in the gravy prepared from garlic, onion, ginger, olive oil, tomatoes, and an assortment of aromatic spices. Makhani translates to 'buttery' so, you cannot have this dish without a dollop of fresh butter.
When cooked in a clay oven, dal makhani has a smoky flavor that tastes the best with garlic naan (leavened flatbread flavored with garlic and herbs).
Samosa – Deep fried potato pastry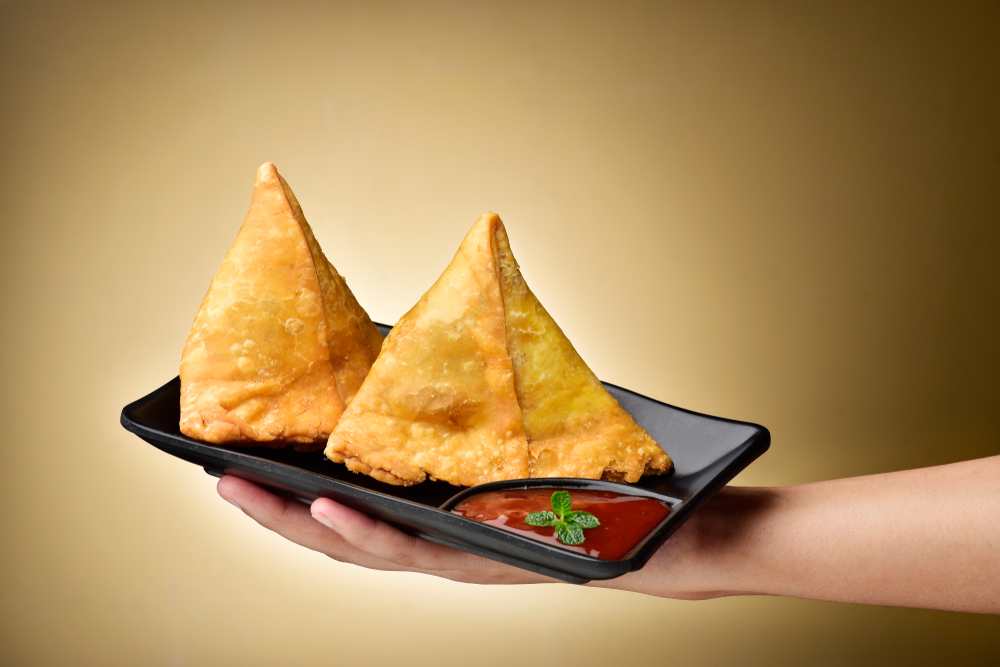 Call it a pie or a pastry, samosas taste delicious in every way. Samosas are a treat for vegans as they contain no meat, cream, milk, or anything derived from animals. Boiled potatoes are mashed with onions, chilies, garlic, and peas to make a smooth filling stuffed into a pastry made from all-purpose flour and black cumin. Samosas have a triangular cone-shaped structure and are deep-fried in oil or ghee (clarified butter).
You can enjoy the crispy samosas with a serving of chutney (sweet and savory sauce) and a steaming cup of tea.
We're sure you're drooling over your screens now. These delicious Indian dishes are a favorite among food lovers, and you can easily find them in any Indian food joint. If you can't wait to go out and are craving Indian food, try these dishes at home to unleash the chef in you.